Socks made using one of my favorite patterns, Crusoe, from Knitty.com out of yarn from one of my favorite people (and vendors!) Eve at
Simply Divine Fiber Arts Studio
.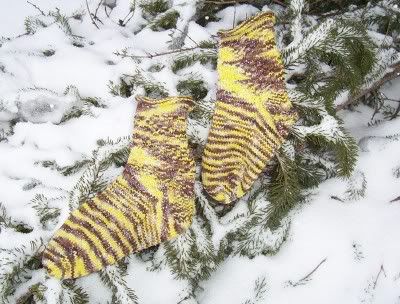 Now that they are finished I am swatching to chose just the right sock pattern to make with my birthday present from daughter Nakia, a skein of STR yarn in the rainbow color named Fire On The Mountain! What fun ;)
During a rather stressful week recently, my precious daughter and grandson brought me a beautiful bouquet of roses - the most exquisite color! They dried nearly the same color, you can see them below in an antique bowl from my Grandma:
I also treated myself to a gift of blooming hyacinths to grace my kitchen windowsill. Their color and fragrance inspire me!