Sometimes, life overflows and not always in ways we expect or would choose (if we had a say in the matter) My last posting here was the day before my birthday. The day
of
my birthday, I found myself phoning for an ambulance, fearing that my beloved husband had suffered a stroke. What has followed are days of hospitals, emergencies, surgeries and a massive change to our lives. As we face all of those things and more, I am only reminded more and more of the love and care of our Heavenly Father. How can I doubt when He has sustained me, cared for me and loved me every step of the way? Bill and I, along with our entire family, will survive, stand and walk through this all....and we are so thankful for the love and prayers and encouragement of our family and friends. There are literally moments, especially those in the night or in the quiet of the critical intensive care ward of the hospital, when you
FEEL
the prayers of those who are lifting you to God.
To say thank you is not enough, but it is truly the only words to say. And it is from the heart.
In the midst of all of this, I have been so blessed by prayers, cards, letters and words of encouragement and support. But also with gifts, and I am very behind in sharing some of those with you. So here is some catching up. I hope you will enjoy and appreciate them as much as I do!
First the birthday presents: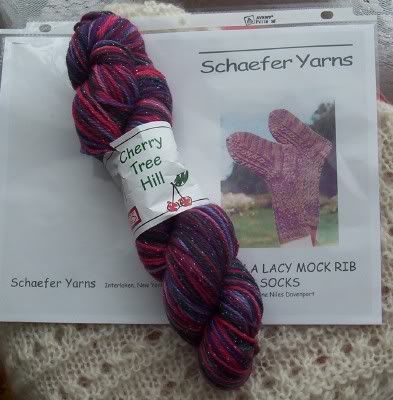 From my special new friend,
Brooke
, who shares a January birthday with me, this Cherry Tree Hill sock yarn and a neat looking sock pattern! Brooke, this is my first Cherry Tree Hill and it arrived after a particularly draining day for me...one where I needed some comfort and some color. The yarn provided both and I carried around the house with me - LOL! I love the sparkle, it looks like snow on the yarn. Bless your precious heart, my friend!
Next, an anonymous present (though I think I know who it is from?):
A Cafe du Monde gift basket arrived, but there was no card with it! I am hoping that whoever sent it will let me know so that I can thank them properly. This contains goodies like famous coffee with chicory (and it is so robust!) plus the making for beignets ~ I will let you know how those turn out ;)
Then, my Sock-ret Birthday gift...socks and the cutest little knitterly earrings:
Thank you, to my still very secret
Sock-ret Pal
!
From Lynn of Spinderellas, who is my
Life Overflowing
Pal, the most amazing box of goodies ever! Check this out: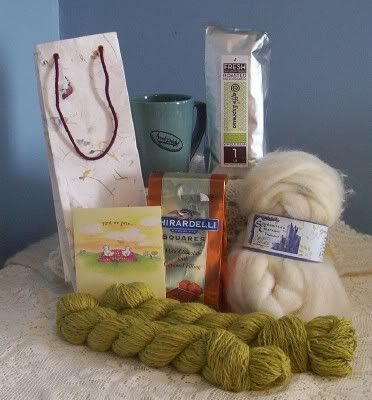 There is
Spinderella Thrums
fiber; Spinderella yarn; a special coffee roast from Lynn's favorite (and local!) roaster; Ghiradelli chocolates with caramel (already consumed!); a peaceful and serene handpainted mug; a card with my favorite Wooly Sheep from Daysprings; a gift bag that looks to be handmade paper PLUS some yummy Cinnamon-Vanilla candles that I am already burning. I also received some very special prayers from Lynn, the best gift of all!
From Pamela, oh my goodness!!!
Prestat Fine Chocolates
A gift just to open the layers of packaging, and then the delights inside!!!! And from best girlfriend Cherie and her family, special gifts to make day to day life easier...and so much more from so many!
When life gets crazy, what is as comforting as a very special kitty to warm your heart? My little kitten, Grey, amazes me with his capacity for knowing when I need a kitty hug! Yesterday, as I stood in the kitchen doing dishes, he flopped down on my feet and lay there purring like crazy. This picture was taken as he lay near me in the sunshine, just to cute, don't you think?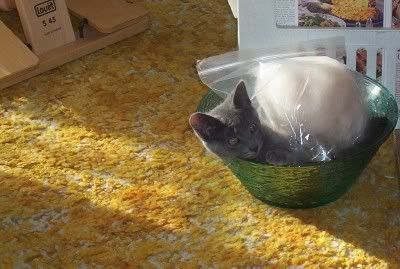 Along with my thanks to everyone (and special thoughts for our family), I would like to add my own prayer for anyone who might read my blog....and that is this. If you are facing something in your life that seems like it is going to overcome or consume you, don't face it alone! Look to Jesus for comfort and peace! Even if you have never trusted Him before, it is never to late as long as we are in this world. Let God care for you...I can see no other way to exist in this sometimes senseless world!