I have been working on putting together a blog update for weeks….I really, really have! Taken photos, thought of witty and wise commentary (okay, I am poking a little fun at myself with that!)….but then one day passes….and another…then it's a week gone by….well, you know the story. But finally, here I am, waiting for the freshly mopped kitchen floor to dry and deciding on another cup of coffee and a little blog update time. Especially important, probably, because I still can't update my website for some reason ;(
I guess I won't add all the photos and news of the past few weeks because that would take more time than I have in this day (speed is not helped by my slow dial up computer connection). I could show you gardens and pastures and lambs and tell you all about those projects…but instead for today, how about some fibery updates? Because I have really been in a fiber state of mind lately!
First some yarn for socks:
My friend Cherie offered a challenge by giving me just about 3 ounces of a new-to-her farm roving to sample. It is a 50-50 blend of Hampshire wool from her new ewes with Mohair from her adult goats. She had it blended with the idea of nice sock yarn. I started out spinning my customary 3-ply sock yarn, but this fiber has more "poof" factor than you would anticipate and I wasn't happy with that sample. So I sat about spinning finer singles on my Louet S-45 (love, love, LOVE that wheel) and came up with a nice weight, nice feeling yarn. Although I spun each single with a far amount of twist (and did the same when plying) it does not feel harsh at all. And just look at how balanced the freshly plyed yarn hangs! This has not been washed or "weighted"….just fresh off the niddy-noddy here: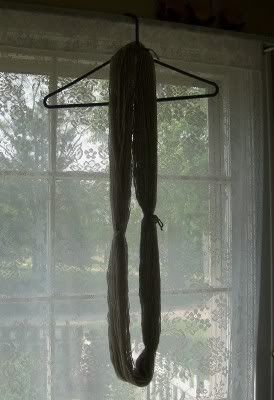 (
A little side note…I never "set the twist" of my yarns by weighted them or tensioning them. I know there are two trains of thought about this in spinning land, that you should or that you shouldn't ….but I have read and heard spinners that I respect say that you are fooling yourself by weighting a yarn to "balance" it. That twist is still in there, just waiting for you to wash or wet your garment and bounce itself back to what it originally was! Instead, my goal is to spin for a fairly balanced yarn in the first place. And unless I am experiencing some stress in my life that shows up in my spinning – I usually can do it. Just my humble opinion, and worth only that!
)
In this photo, maybe you can see that the now adult Angora goats (or maybe even from the Hamps?) have some of the black kempy fibers that have the potential for feeling prickly in the sock that I will eventually knit, though it feels fine in the yarn.
My solution to this will be to spin something soft for the ankle of the sock – maybe some Angora bunny or Alpaca blended with my own soft Corriedale wool. This will solve two problems for me – the possibly prickly wool won't be against my ankles plus I will have some additional yardage to knit the socks. I ended up with just 351 yards of the yarn and although I should be able to get a pair of socks to fit me from that (I will knit them toe up) having the soft stuff for the cuff will give me some breathing room.
This next fiber and yarn is from my friend and neighbor, Maple at
North Star Alpacas
. I had forgotten about a sample Maple had given me of her Farm Blend….a trio of colors blended into roving from her Alpaca "seconds" Now anyone who has spun Alpaca knows that even the "seconds" from a good Alpaca breeder is pretty nice stuff….and Maple is a very good Alpaca breeder. She is a dedicated fiber person, so is very fussy about what she offers to other spinners, knitters, etc. It was a calming and enchanting spin, turning this sample into yarn, watching the earthy colors flow through my fingers.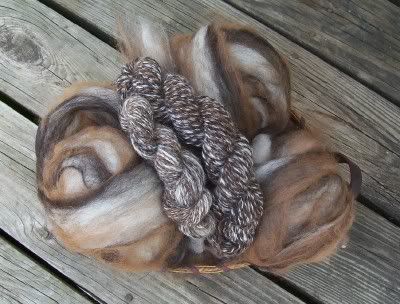 The little skein on the left in the photo is a 2-ply of the blend only. The skein on the right is a 3-ply - 2 plies of the blend with a 3rd ply of bay-black (also from North Star Alpacas!) I can't decide which I like best, probably a test swatch will determine. Maple surprised me with a few more ounces of this and I already have plans for a wintertime knit ensemble! I may even have it ready in time to enter in the contest at the fall Alpaca show ;)
Finally, I have to show you the swatch for my next shawl project. After a long winter of knitting I have been longing for more time at my spinning wheel. Some of you may remember that I have been hoarding – (um, saving!) – the last fleece from my beautiful ewe Hannah, now departed. I had it blended with some dyed French Angora bunny by my friends at
Spinderella's
and they did just a beautiful job on my old girls last fleece. I had been thinking of a sweater, but I am really more of a shawl type girl and I knew that no matter how much weight I might gain or lose, a shawl would fit around my shoulders for a long time to come. So I asked a few friends if they would like to work on a project together and try to learn a few things about our spinning and knitting along the way. We are going to start the summer out by spinning for our shawl's, then progress towards creating the shawl. Each of us is choosing our own pattern. (I really will be writing more about this project soon, as the idea has taken on a life of its own!)
In the meantime, I spun a sample yarn from Hannah's fleece. I was not happy with either my spinning or plying; it was rather loose and sloppy. This was done on my Louet S-17. My next sample will be spun on the 45 then plyed on the 17. Anyway, here is the test swatch, which is actually the first few rows of the pattern for the shawl I have chosen: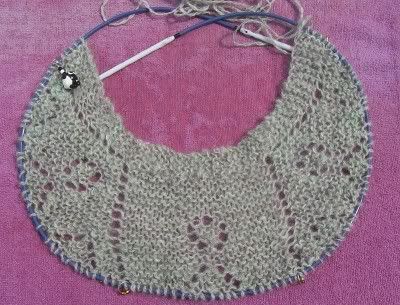 Having recently become quite enamored of the Faroese style shawl, that is what I decided to knit for myself. My choices had narrowed down to making a second of Silvia Harding's
Follow The Leader
shawl (love that pattern!); one of Jackie E-S's
Heartstrings
patterns, either The Pendant Shawl or the Shetland Lace Patterned Shawl or possibly Lucy Neatby's
Faroese Flower Shawl
(I
am
going to knit that one at some future date!) For many reasons, The Pendant Shawl was my final choice and I love it already!
Now, what do you think of the adorable sheep stitch marker?!? Here he is a little closer: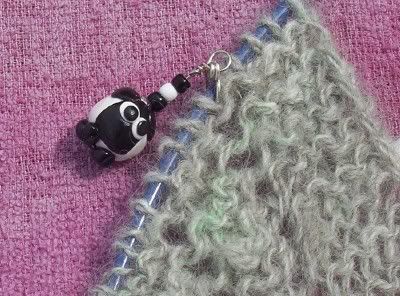 It just makes me smile to look at! These little cuties are made by
Hide and Sheep
right here in Michigan! I have been trying to snap them up as quickly as they are made! Be sure to check out their Etsy store, you should be able to click on the name to link. I have bought several things from Todd and Susan and have been thrilled with each item...they come in the neatest little container and ship SOOOO fast!
I am planning to convert two of these little sheep into earrings for myself ;)
Hope this update on the fiber part of my life was fun for you to read....in the next few days, I hope to have more written up about the Shawl Journey so check back in!