The importance of timing has been on my mind lately. The perfect timing needed for planting, for harvest, for application, for life. I am often reminded (and often need reminding!) that God's timing is always perfect.
Some examples set before me in daily ways recently? Well, the hay crop I wrote about for one. I had seven bales of hay left in the barn when the new crop was ready to be brought in! Just in time, I said to myself.
An example of fortunate timing has been the tomato harvest...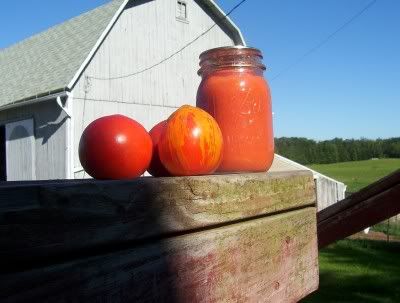 Just as I opened the last jar of tomato soup put up in 2005, the first really ripe tomatoes of 2006 had begun to appear at Farmers Market, and will be put up in a new batch for the next season. Just in time, I said to myself.
Some times (most times, truthfully) we feel that God's time is not our time. The Bible tells us this is so. Bad things, delays, closed doors...all seem like poor timing to us. But it also tells us that His time is perfect. When we can't understand the timing, it is our job to trust. Trust Him, wait on Him, listen for His direction. And it comes....
Well, I promised some knitting and fiber content for this post, didn't I? So here it is...
I have been on a kick of spinning 3-ply yarns lately. This came upon me even before the recent issue of Spin-Off magazine talked about plying. For some reason, in my brain, I was trying to make a 3-ply yarn more complicated than it needed to be. I'm not talking about Navajo-plying...I wanted to spin 3 bobbins full of singles, then ply them together into one strand of yarn. I wanted some stronger, smoother sock yarns....I wanted to use up some odd amounts of fiber stash I had around. And so, armed with input and encouragement from some fibery knowledgeable friends, I began with the Beach (in the photo above), fiber from friend
Eve
(you may be able to see the subtle bits of dyed silk that give depth to this blend...soooo nice!)
My second attempt involved more color. Do you remember the Blue Jay roving I was spinning on the electric spinner back in July (see archives)? A blend of fibers, but as a 2-ply it was just a little drab. Enter a third ply, this one of black Corriedale/Llama/Alpaca and I got this lovely yarn: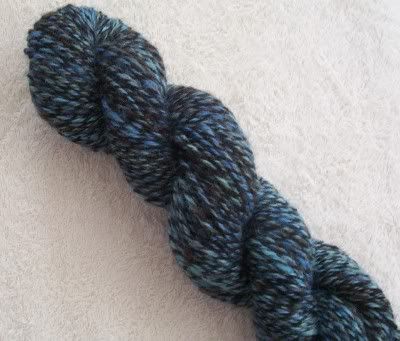 In real life it is not as barberpole-ish as it looks here. I like it but not sure what project it will become.
There is a third entry in the 3-ply category that is also very pleasing and will make an appearance here in a day or two. I am just finishing up the second half of the fiber, then need to ply and skein it and then will post pictures. By spinning three bobbins full of very fine threads, I am able to produce a nice sock weight 3-ply yarn that is soft and smooth to my fingers. I have just cast on with the Beach fiber for a pair of socks, to see how it knits up and how my feet feel about this yarn before I commit myself to spinning more in the same way. I also want to test the durability of the yarn when knit into socks. I hope it lives up to my expectations.
Knitting these days? Well, as you know my Summer Sock Party '06 sock was sent and
Juju
has received it - Hurray!!! Check our her blog to see an update - best of all it arrived right about the time of a major birthday ;) I am knitting display pairs of socks for an upcoming sock class I am teaching. One pair is great with the chosen yarn, the second I have torn out twice...a familiar pattern that I am comfortable with but the color yarn is not working out. I can't wait to get a few of these sock projects off the needles and start on the Jaywalker sock in the Opal yarn from my Sock Party gifter. I also need to cast on another pair of socks from wool stash for CIC.
My
Elegantly Simple Triangular Shawl
has been sitting at my side, waiting for me to decide whether she will grow up to be a real shawl or be content as a shoulder scarf. I love the pattern, I love the yarn, I love the color play, I have loved praying for a precious friend (Dale - who is doing so good, Praise God!) while knitting...but I am still not convinced I love
this
yarn, on
these
needles, in
this
pattern - you know, the combination. Its bugging me and so I am trying to ignore my commitement to the thing. Do I continue through the few remaining balls of this one of a kind yarn to complete the shawl, only to find I dislike it even after blocking? Do I stop at the end of this repeat, block it and find out I love it and hate myself for not plodding ahead (and by the way, that would leave me with two balls of the yarn and not enough yardage to make anything else with...) My inclination is to forge ahead and complete the shawl. If nothing else I love the color of the yarn, and the way it feels, even if it does not do justice to the lovely pattern. Sigh....you will just have to stay tuned to see what fickle Cary decides (grin)
My other big change in knitting gears has been on a project for my daughter, who is pregnant with her second baby. I signed on for, and have been knitting on, the lovely Mystery Stole 2 project. My excitement was that each week we get a new clue, and I thought it would be fun to knit this secret project, waiting expectantly for the stole to grow and develop just like my grandbaby. I would present it to my daughter for her birthday in November (baby is due in December) She would wrap herself in the lovely creation, knit with love by me from beautiful wool spun from her own ewe, Violet.
Above, Violet. Below, Violet's fleece and yarn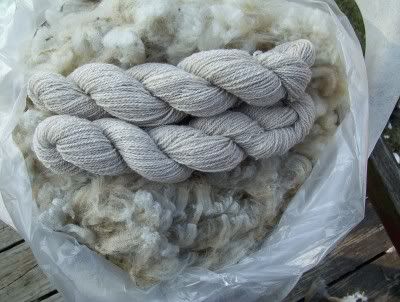 The pattern Melanie created was perfect, as daughter does NOT like lacey, holey, full-of-yarn-over garments and this stole has lots of solid areas. However, as I knit and as I watched others knit on and even finish their project, I started to get a naggly feeling that this actually wasn't what I wanted for Nakia and the baby. It is a stole, not a shawl...not very wide and very long. I wanted something warm and enveloping, like a big easy hug. So...
Off the needles the Mystery Stole 2 in Violet's yarn came and I was on the search for something different....(isn't it fun to pull out all the pattern books, knitting magazines and search online patterns when you have a project in mind?) And I found it!!! It was right under my nose, a simple garment I had overlooked lots of times but now jumped off the page. I can't tell you which one it is, or show you a picture of the shawl in progress in case dear child should look here at my blog (it is going to be a surprise remember). But I will say that it is a classic pattern from Best of Knitters Shawls and Scarves. I am so happy with the choice that I can hardly put it down (and it is a lot of stitches, so it takes a few minutes to get through a row) It just feels right.
Well, that is the majority of knitting and spinning news here at the farm. As the cooler air stirs the night and the colors begin to show a bit on the trees and in the fields, a longing for more projects form in my brain. But for now I am content to work on completing some of those already in the works and simply dreaming of those to come...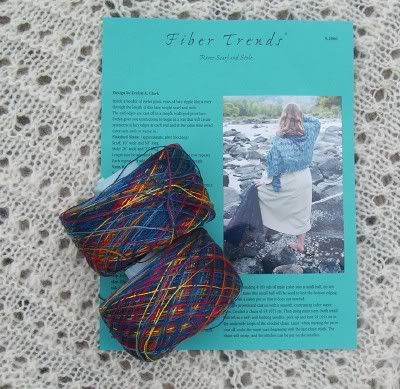 Above, the HGA Convergence Special Edition hand dyed yarn from friend Margaret at Heritage Yarns and the River Shawl pattern from Fibertrends. Don't you think this will be fun to knit?