There has been very little time for spinning at the farm, but with so many hours logged at the hospital and in waiting rooms I accomplished a lot of knitting since January...and most of that finishing projects - hurray! But before I show you my knitting progress, I want to share with you the February package from my Sockret Pal: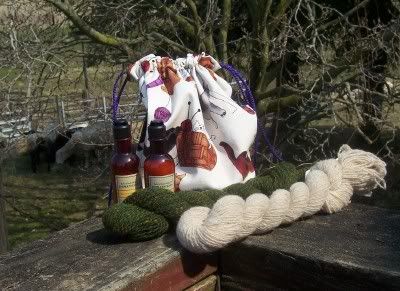 I just realized that you can't see the adorable pattern featuring some pretty playful kitties on the little drawstring knitting bag (I will have to take another closer up photo and show you on another day - cats and knitting, how cool is that???) The two skeins of yarn are Rowan 4-ply (my first Rowan yarn, too!) in the most appealing, earthy colors. There is enough here for a pair of socks, but I am thinking of combining these with some of my Ainsley brown wool to make
Pegg Thomas
' Fancy Feet sock pattern. There was also a gift set of B&BW Orange Ginger bath products - shampoo, conditioner, body wash and lotion - had I mentioned that I
love
Orange Ginger?!? What a "right-on" swap present,
Dharmafey
! And by the way, you live in the same town as one of my very dearest friends!!!!
Okay, here is some finished knitting. First, the big(est) one - the shawl I started for my daughter last November. I actually started two other patterns, the ripped them out because they just didn't suit. I was looking at something by Silvia Harding and knew that this was
the
one!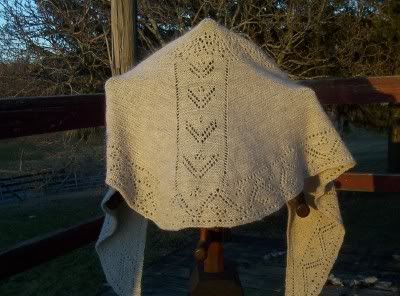 The pattern?
Follow The Leader Faroese Shawl
by Silvia Harding (downloaded from
The Knitting Zone
....love those downloadable patterns - instant gratification!)
The yarn?
From dearest daughter's favorite sheep in the flock,
Violet
(natural colored Corriedale) blended with angora bunny (you can just see the slight halo of the shawl), mill spun by Jim and Lynn at
Spinderellas
Needles?
Denise needles (really, I love these needles), size 6 and the extra long cable (52 inch, I think?)
Here is a little closer look at the center back: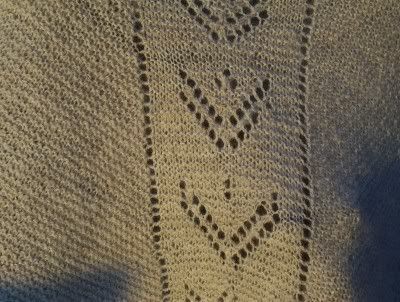 I wish I could show you the shawl on the daughter, as it looks lovely on her. The pattern was perfect for her, Nakia does not like light and airy, open work lace. I like the Faroese style for the way it can be wrapped and tucked into a waist band, leaving hands free (perfect for holding new grandson Elliot) I did make a mistake and got off on the pattern around the shoulders, but I went with it - as I told Nakia it is now snowflakes rather than triangle type shapes (grin) It was intended to be a gifted to her at Elliot's birth, but became instead a present at Mason's birthday. I think she doesn't mind ;) I also finished her Ainsley Yarn socks, from her second favorite sheep on the farm...I don't have a finished photo of these rich cocoa brown creations because they were whisked away and have been on her feet since their completion!
(Note ~ Now I am trying to decide on another shawl, stole or wrap pattern to start on and have in the works. I have yarn and patterns for several and just need to make the decision...I think I will write about that tomorrow and let you all help me decide!)
Next is the finished scarf I wrote about in a previous post. I think the colors look like a rainbow in the sky:
What this photo shows is that I need to re-block the thing! The mohair blend yarn was so beautiful to work with! The pattern? Not mindless and not really all that easy, simply because it did require some concentration, but the rows were short and there was the "resting" purl row to allow you to count your stitches and keep yourself on track. This is also a gift for someone special.
Another finished project happens to be on my feet today: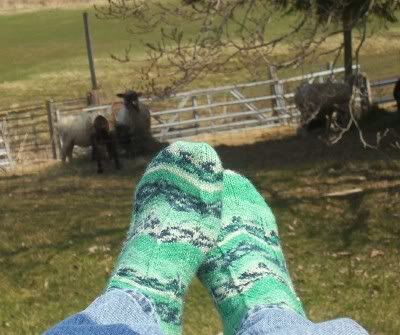 These Jaywalker socks, knit in Opal yarn, are from my first sock swap ever last year. The socks were started by
Stariel
(she chose the yarn and pattern, knit the first sock and sent me the remaining yarn to finish the second sock) They were finished but for a few inches, then sat in my knitting pile - isn't that ridiculous? So I finished them and have my lovely pair of socks and happy feelings for that first swap (which was also my first time using Opal sock yarn and my first pair of Jaywalkers, a pattern I have come to love)
Then, to celebrate finishing these projects I allowed myself to start a new one. And since I love the Jaywalker pattern so much, I got very excited when
Grumperina
(Jaywalker's creator) had a pattern in the Spring 2007 Interweave Knits, called Roza's Socks. I started them this week and think I will like them - maybe a progress photo later this week.
To top off the week, a plain manilla envelope arrived in my mailbox, disguising this sweet and thoughtful present from my friend
Carissa
:
Isn't this precious? It has ladybug fabric on the reverse side, but I am so taken by the delicate watercolors of this fabric, I have it on the outside for right now. My Roza's Socks are carried inside. Carissa has such a gift for making unexpected blessings arrive in the mail when they are very needed....I was completely surprised and so touched by this! Thank you Carissa ;)
There you have it, knitting content from Serenity Farms! With spring and summer approaching, I am now looking forward to more spinning time...wait, time? What time??? LOL...