And, life continues ~
I would like to thank everyone for their care, concern and prayers since our world took an unexpected turn in January. It has been a long struggle with Bill's health, but it has not been without many blessings along the way - and friends and family are surely right at the top of the list! God is good, and He is faithful. After nineteen days in the hospital (including a long stay in intensive care, with an hour drive both to and from) Bill is now at a live-in rehabilitation facility only a few minutes from home and we are looking forward to the day he will be able to be back here with us on the farm. I hope to be better at keeping up with things in coming days, and I look forward to visiting with many of you. This world is filled with wonderful people, and we are blessed to know so many!
In the midst of this all, we have dispersed our herd of Percheron horses - all but Sam and Lisa. These old girls will live out their days here. I am especially thankful for the new homes that Stella and Rochester will have, both are near by.
Lambing began and shearing was done in February. There are many adorable lambs and amazing fleeces: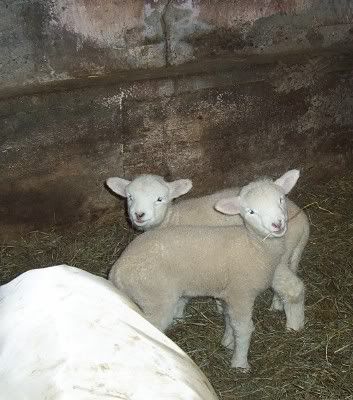 I am VERY slowly getting the fleeces skirted and on the way to their new homes, but with so many additional responsibilities it is slow going as you can imagine! I want to be sure to thank all of my wonderful customers for their understanding and patience with me, especially when (along with everything else going on!) my computer died and couldn't be resurrected for nearly three weeks! And for those who could not wait and needed to forego your fleece reservation, I want to sincerely apologize for any inconvenience my circumstances have caused. The good news is that this makes more fleece available to those of you who have been on the waiting list ;)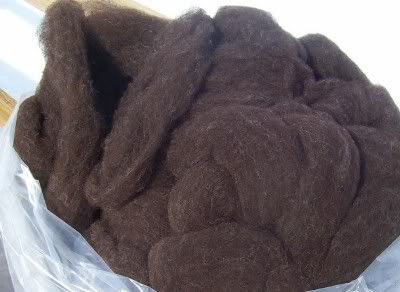 My friend Theresa coined a phrase for my fiber...she calls it "Comfort Wool" and the sentiment has been echoed by many of my customers. I want to share a roving (pictured above) with you that is certainly deserving of that name! From a lovely little ewe named Bree (her picture is below with her 2007 lamb), this is so dense and so plush and so absolutely squeezable....it makes your heart and hands sing while you are spinning it! Rich, deep, dark brown.
Another roving I just got back from Zeilingers is this blend I call Stone Soup: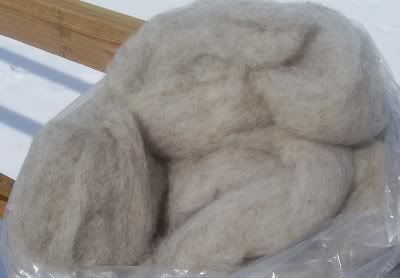 I was inspired to throw all kinds of wool together to have this one made after taking Letty Klein's Braided Roving Rug workshop - the intent being to have a nice felting roving to make some rugs with. Various amounts of things like Cotswold, Lincoln, Border & Blue Faced Leicester, Dorset, Columbia, Icelandic, Shetland and even some Alpaca, Llama and Corriedale - a real hodgepodge! Imagine my delight at how yummy the roving is and how beautifully it spins! I am currently spinning some of it up with the goal of a 3-ply sock yarn. Very soft yet with strength from the longwools and a neat tweedy oatmeal/grey, like Ragg Wool yarn!
Again, my love and thank you's to our friends and family who have kept in touch and had us in their prayers! A scripture that has echoed through my mind over and over in recent days is this one from Ecclesiastes 4:9-12:
"Two are better than one, because they have a good return for their work.. If one falls down, his friend can help him up. But pity the man who falls and has no one to help him up! Also, if two lie down together, they will keep warm. But how can one keep warm alone? Though one may be overpowered, two can defend themselves. A cord of three strands is not quickly broken."
It is a comforting feeling, to know that you are not alone when changes like these come our way!