All of these things have in common spins, knits or swaps I am participating in for the summer.
The first is my own Journey To A Shawl spin and knit along that I wrote about in a previous entry. We now have a blog to share with others (why don't
you
come join along with us? We would love to have you!) You can read more about this project at the Journey To A Shawl blog, by clicking
here
...
Yesterday, locally, we had a workshop for those interested to create a journal for documenting our progress. Here is my journal, photographed in my garden this morning: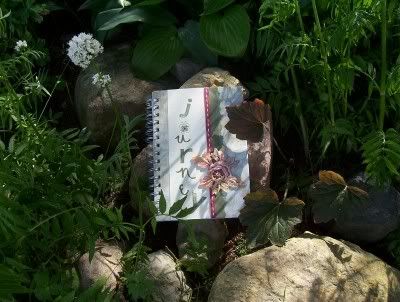 I will be knitting the Pendants shawl from Heartstrings Fiberarts. But before I can knit it, I need to spin the yarn (grin) I am finding little spinning time these past few weeks, but I will get there.
Also knitting along on my Sock Hop Sock '07 sock for my new friend on the west coast,
Deb
(hi Deb! By the way, if you clink on the link from Deb's name, you should be at her blog and you can read about the fiber swap she is hosting. I am signed up for that, too. I love sending roving out into the world and having some come back to me from someone else!) Of course, I can't show you a picture of that sock in progress, but I can show you a picture of the sock I received from
Katrina
, who was knitting for me: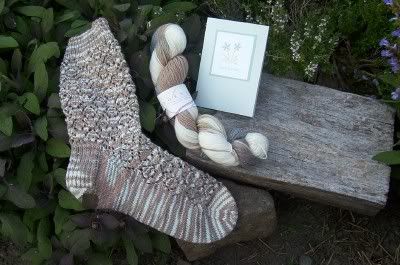 This is just the neatest sock!!! It is the Acorn Sock from Fiber Trends (daughter has already confiscated the pattern to start a pair for herself - LOL!) The yarn is Lorna's Laces in the color Aslan. This sock fits as though I had knitted it for myself, what a great job Katrina and I thank you so very much! Um, there were also chocolates but they have mysteriously disappeared...hehe...and some soft and fresh Healing Garden Mandarin Therapy shower goodies.
More knitting looms on the horizon....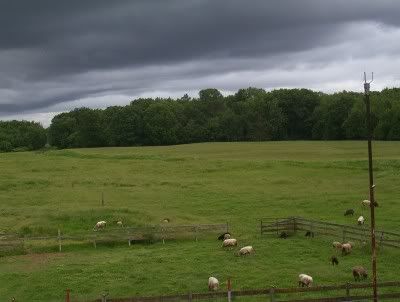 I call this photo Boudica Sky because the colors of the sky look like the colors in the yarn I am using to knit the Boudica Socks. My new friend
Brooke
and I are going to work on this pattern together at some point this summer, when life settles down for both of us (what? when???) If you haven't heard of this sock, be sure to take a look at the kit here at
Wooly Wonka Fibers
. I am using the colorway Wasatch.
Tracey
has started a really neat KAL, too. Its called
Inspired By Nature
and the idea is that you go outside, "look around, find something in nature that you love or are intrigued by....take pictures, draw it, paint it....search out a pattern and yarns that represent the elements that you love...then, knit it!" If you are interested in this concept, you can still join. Click on the link to find out more.
Here is my "something":
These beautiful lavender-orchid colored irises in my garden never fail to inspire me. The yarn was dyed by my friend
Sharon
in Ohio, and though it is called Roses and Violets, the color is so very close to the iris that I couldn't resist. It maybe doesn't truly show just how close in this photo, but it really is. Not sure what the pattern will be yet...but think this will be the inspiration and the yarn.
Finally,
Melanie
has announced the Mystery Stole 3!!!! Oh my....will I have time??? I am sure going to try! And I am certainly going to follow along.
There you have it...my kal confessions for the summer. Maybe I will see some of you at some of these....