It can't really be August, can it?!?
The weather here has returned to hot and humid during the day, but thankfully it cools down to lovely sleeping weather at night. In the mornings, we wake to heavy dew and deep mists. Can you see the sheep in the mist? And the sun's rays just beginning to top the woods and spill over into the pasture?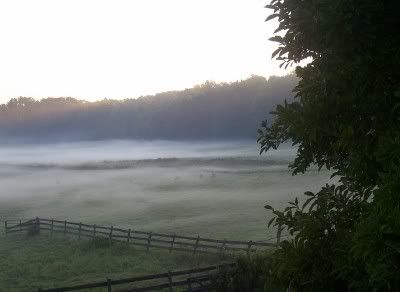 Or how about the ghostly white horses?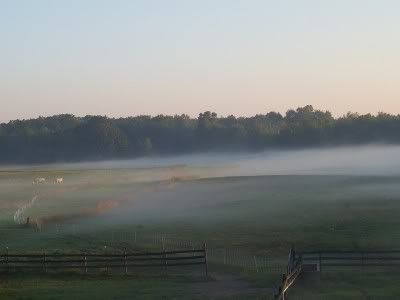 We have to get up early and work fast to accomplish outside chores that need to be done in the cool of the day.
In a recent post that included a sweet photo of one of my ewes, Abby,
Brooke
mentioned that my sheep seem happy to be near me and I like to believe they do. In fact, some like to be really near me - LOL - like Amanda here (Abby's twin sister) I couldn't get a decent picture of her the other day because she wouldn't stop hugging my legs, wanted her ears rubbed!
I don't have any knitting or spinning photos to share because - well, because there isn't much knitting or spinning going on. I am doggedly still working on the sock for my Summer Sock Hop pal, Deb, who is still kindly waiting for her gift. Gosh, this has got to be the slowest knitting sock I have ever made! But I am determined to finish it and get this out to her before winter hits.
I do have a flower photo to share, though: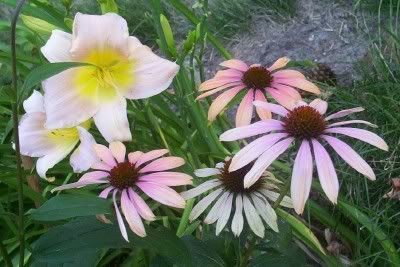 These are my new garden additions (the coneflower) next to one of my all time garden favorites (the daylily). The coneflower - Echinacea - is from the Big Sky series and is called "Summer Sky" It is fragrant and lasts forever as a cut flower. The plant tag says it has "soft peach petals with a rose halo around the cone...dark stems" Well, let me tell you that it has a very lovely wide range of peachy-rose tones to its petals! Hmmm, I think I will challange myself to fire up the dye pots and come up to some colors even close to these!
And finally, I had promised some of my friends a snapshot of our farm from a different angle, a view you don't often see here.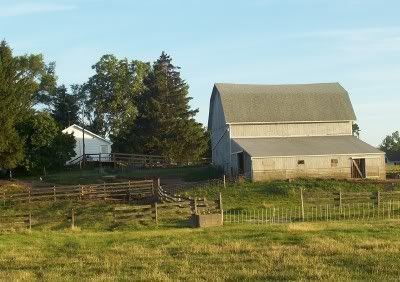 I took this from out in the pasture amongst the sheep. I think maybe you get an idea of the scale of our barn compared to our modest little home (modest...well, actually it is pretty dinky! LOL!) But its ours and it is a roof over our heads and a place to eat our meals and sleep at night. That back porch is where you will find me with my coffee most mornings around 6 am, preparing to greet the day and again in the evening before turning in, to get my fresh air (I do that even in winter!). I think you can see the back door and the ramp that was built early this year for Bill's wheelchair (Mason calls it "Papa's Bridge") You see the lean-to that was added to the big barn for horse stalls - it is now the "barn floor" where the sheep hang out in winter. In the summer, when they aren't grazing, they rest under the trees.
I really like this picture, and I hope it gives you another glimpse at our life. While it all appears serene and quiet, there is always a lot going on!