First I have to share this picture of a darling little sheep, crocheted by my sweet friend
Carissa
. She (the sheep, not Carissa!) arrived as a surprise in my mail box this week ~ just as a pick me up and a reminder that I have friends who pray for me! She is made from handspun wool, from one of our sheep named Coryn. Carissa washed, carded and spun the wool herself.
It is the last day of October. Do any of you read Glady Taber of Stillmeadow fame? I think I began reading her books when I was in sixth grade. Our old junior high library had them on the shelves and so did our local Carnegie Library. At even a young age, and even being the farm girl/tomboy that I was, I loved her stories. I still do, and have a few of them in my personal "library" that I re-read often. From one, a collection edited by Mrs. Taber's daughter Constance called
The Best of Stillmeadow
, I read this:
"As October ends, the air begins to smell of windfalls that have been frosted. The leaves drift down and most of the branches are bare. We see more sky. Night shuts down early.....the mornings have a sparkle and I love to see the shadow of the house silver with frost when sun has melted the rest of the crystals on the lawn. Next week, I think, we might take the screens off."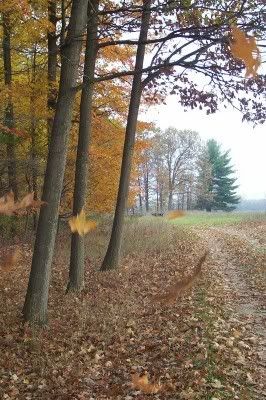 This morning I stopped along the lane that runs next to the woods on our Burnham Farm property (maybe you can see the hay wagon in the distance?) As I paused to photograph the view, the wind kicked up and leaves came drifting down around me.
Maybe next week, we will take screens off, too.