I am blessed beyond measure to have so many talented friends. Many of these I have gotten acquainted with through the Christian Artisans yahoo group. Recently, I was able to meet one of those long distance friends, Lee, when she paid a visit to Michigan.
The photo above shows just some of the glorious colorways she has designed and dyed. Lee has an etsy shop, where you can go to purchase your own luscious sock yarn from her ~ it is
Wild Meadows Yarn
. She sells out quickly, but I know for a fact that she just received a large shipment of blank yarn that she is working her color creativity on, so more should be available soon! When she left my house, she was carrying three less skeins than what she arrived with - LOL! Be sure to check out her shop, I know you won't be disappointed.
Another friend is Cheryl. I haven't had the pleasure of meeting her face to face, but she only lives one state away (Ohio) so maybe one day soon! Now, many of you know that I am a soap maker. I love homemade soap, and I love making my own. However, life is no longer affording me time to pull out the soap pots and get creative myself, so I am always happy to find another soap maker who's quality matches mine (at least in my opinion) I was thrilled to try Cheryl's "By The Hearth" soaps...here is just part of my recent purchase from her, along with some beautiful stitch markers she made and sent to me for my birthday.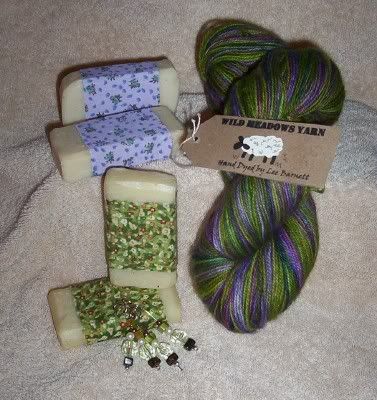 Don't her soaps look pretty next to some of Lee's "Wood Violets" yarn? Cheryl does not have an online shop, but if you would like to contact me I can put you in touch with her.
(Note ~ in the photo above, the yarn is by Lee at Wild Meadows Yarn and the soap is by Cheryl at By The Hearth Soaps)
I'll end this post with a photo of the Creation of another very special Friend of mine, the most important Friend of all. It is my Heavenly Father's morning sky:
Isn't it lovely? I hope you will find time to visit Him as well....