Just a few days ago, I shared a wonderful afternoon with my five year old grandson. The sun was shining and the temperatures had warmed a bit, so we bundled up and while I skirted fleece on the back porch, he played around the barn and spent time climbing the magnolia tree ~ a nice sized tree for a small boy to climb.
"Grandma, Grandma!" he exclaimed "I can see the
WHOLE WORLD
....all the way to the woods!"
My heart caught in my throat and I closed my eyes, to commit this moment to memory. What meaningful words...to this little boy, who's whole world
is
what he can see and know here on this farm. On the other side of those woods, across the pasture fields and hay fields, at our adjoining property, is his home. When he is a bit older, God willing, he will ride his horse or walk the trails through that woods when he wants to come to visit Grandma and Grandpa.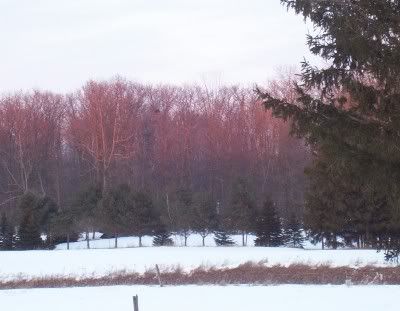 His whole world. And I stopped for another moment to say a prayer that God protect all of our grandchildrens tender hearts, and ask that they always feel that the center of their world here on earth can be here at this place.