The mittens I made for the
No More Humdrum Mittens 2
swap are finished. What fun they were to knit and I already have another pair planned for myself. I don't really like this shot (below) but it does show the different colors pretty well: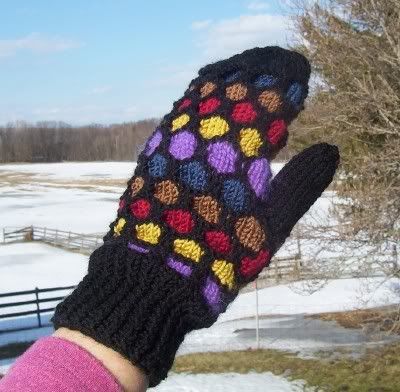 I much prefer this picture of the mittens making a snowball before getting ready for their trip to my swap partner in a different wintery state: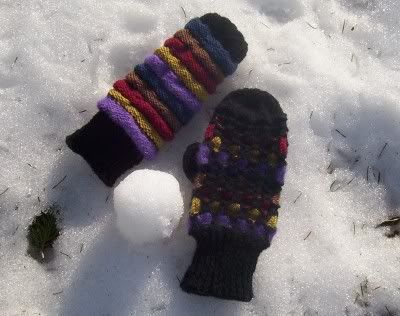 In the photo above, the mitten on the left is turned inside out because I think it looks pretty cool that way, too! Details:
Pattern
: Honeycomb Mittens by Jean Newsted, from the book Homespun ~ Handknit (love that book!)
Yarn
: Mostly Cascade Yarns Bollicine, 100% extrafine shrink resistant Merino wool in various colors. There is also just a little bit of a special handspun in one mitten that I won't talk about here...until after my partner receives the gift ;)
Needles
: Size 4 Addi Turbo (knit Magic Loop style)
Though the pattern is called Honeycomb, I think that in this colorway (which includes most of my partners favorite colors!) it looks more like stained glass.
This was such a fun, no-stress knit a long...if there is a third, I would really like to be a part of it ;)