No, I did not make a spelling error in the title of this post (grin) The Shepherd's Pi I am talking about is my version of the Elizabeth Zimmerman Pi Shawl we are about to begin over at the
EzasPi
group! This is to celebrate the one year anniversary of the group's beginning.
Why Shepherd's Pi? Because I am knitting this shawl entirely of homespun yarn from my flock of sheep, for me (the shepherd of the little flock!) And it is being worked with many thoughts of my own dear Shepherd, my Lord Jesus. I have felt His hand in mine so often these past days. And so I have dubbed my anniversary shawl my Shepherds Pi....
First I did a little sample - a Snack Pi ;> I was trying to determine if I want to go from dark to light with the yarn, or vice versa. My sheep come in a wide range of colors (see my website,
Serenity Farms
for photos of the flock) and I want to use a sampling of most of them. I also decided I wanted to knit with singles. Here is a picture of the yarns I used to sample: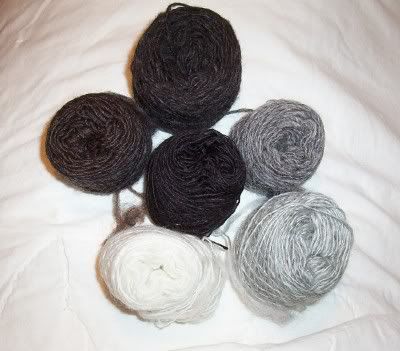 Can you see how the colors go from jet black, a warm brown, through shades of grey and then a blend of my whites. (That very silver grey on the bottom right is Hannah)
And here is a close up of some of the knitting of the Snack Pi:
I learned some valuable lessons in this sample....namely, taking care that my yarn overs at the beginning of the row are snugged up so it won't look sloppy. I learned how long it takes to work the border, even on a sample that is only 14" or so wide! And I decided I will probably make the border of the full sized shawl a bit fancier.
But the most important thing I learned (or should say I was reminded of) is how very much I enjoy working with my own fibers! I will be doing the simple yarn over version of the original Pi Shawl as the yarn is the star of this shawl production - and frankly, I need something a bit mindless right now to work on.
I need to hurry up and finish the second sample, going from light to dark yarn and make my decision of which I prefer so that I can cast on this Sunday, January 22! Sande from the Ez list made an important observation...it would seem that the border is going to get grubbier than the rest of the shawl, and maybe the darker border would be a bit more practical! I think she may be right.
And Jesus said:
If a shepherd has one hundred sheep, and one wanders away and is lost, what will he do? Won't he leave the ninety-nine others and go out into the hills to search for the lost one? And if he finds it, he will surely rejoice over it more than over the ninety-nine that didn't wander away! In the same way, it is not my heavenly Father's will that even one of these little ones should perish...Matthew 18:12-14
I look forward to welcoming home my own one lost lamb in coming days...