I'm so proud of my knitting daughter ;) Growing up, she had no desire to learn to knit. Then, a few years ago when she was expecting her first child - my precious grandbaby Mason - the urge hit! Her first project was a scarf, her second project was a sweater! For her third project she wanted to learn to knit socks. Being the cautious mother that I am, I thought maybe she should get some more knitting experience under her belt before attempting small dpns on fine yarn (grin). Well, she got tired of waiting for Mom and showed up one day with a beautifully crafted sock and asked "Does this look right?" The sock bug had hit! Her second pair of socks were a lace pattern (grin). She is now teaching sock knitting classes at one of our local yarn shops and just a few days ago won her first sock competition with this sock: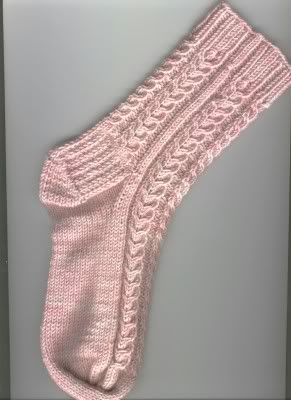 (The scanned photo highlighted the sock better than my digital camera did) The pattern is Denmark from Knitting On The Road and the yarn is the wonderful Soft Rock yarn (latest in the Socks That Rock line of yarns) from Toni Neil at
The Fold
, color is Cotton Candy. A close up of the stitch pattern is below:
She also creates the most beautiful jeweled stitch markers...
A special thank you to our extended, online knitting friends who encouraged Nakia in her knitting endeavors (I think you know who you are!)
Congratulations, Honey! Love you ;)