You know, after following a recent thread on a Yahoo fiber list I am on, I discovered that my fiber stash is basically non-existent – especially compared to what other folks have! This was a blessed relief to me! What I do tend to have are small odd lots of things because I love to experiment. So I have these little groups of 4 or 8-ounce batts or roving in beautiful colors, gorgeous textures and exotics. Along with that I have the roving I had made from the last of Hannah's fleece.
Sadly, as many of you know, we lost our dear ewe Hannah late in 2005. She is sorely missed, though we have her twin sister Eve and three of her daughters - Abby, Amanda and HannahJoy. Her last fleece was short, to short for me to be comfortable selling though it was strong. There was also only a few pounds total. So I dyed some angora fiber that was a bit short, too, and dear Lynn at Spinderella's worked extra carefully to card this into roving for me. That is not going anywhere but WILL be a shawl for me, a comfort shawl and not only a reminder of my sweet Hannah but of all of you who had a part in her lift (even via email)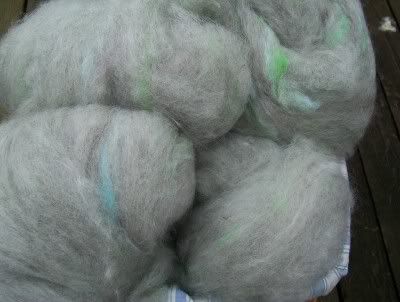 I have a pretty large stash of very, very good quality Angora fiber, mostly white French with very few guard hairs plus a generous amount of beautiful gray (well, it is labeled as Chestnut Agouti but you know it looks silvery gray to me!) English angora. These are such a joy to work with that I am not in any hurry with them, just want to use them to their best advantage! I am thinking of a lacy vest pattern, something that will be pretty and that I can wear but won't be TOO warm.
What I do have an abundance of, though, is yarn. I sorted through and had two garbage bags of yarn. I further separated these by man-made fibers (one bag full); commercial wool or wool blends and handspun wool (or natural fibers) The made man fibers (acrylics, etc.) are going to be given away. They are nice enough yarns and I am not a yarn snob….except that I do prefer natural fibers. The bulkier handspuns that don't amount to substantial amounts of any particular color are being knit into a stash-ghan type shawl - just a bulky, warm, homespun feeling around-the-house-comfort wrap.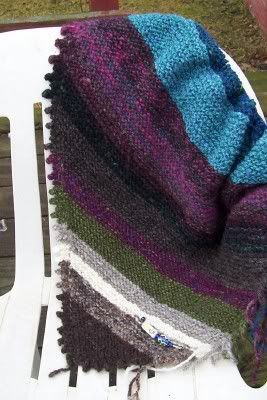 The smaller gauge yarns are going to be used up in a different and more meaningful way, I think. They are going to become socks and vests for the CIC (Children in Common) project. I want to share with you how this inspiration came about, if you would like to hear the story.
My little grandson is a true fiber connoisseur ;) Since he was a wee baby he loved to hold a ball of yarn, loves to watch the spinning wheel go, loves to tend the sheep. This winter he got a new pair of barn boots, and I discovered that you couldn't buy a pair of work boots (hunting type boots) for children. Well, this is silly, I thought I can make him a pair so easily. So I proceeded. Babysitting him one evening I was working on his sock and he came over and asked what I was doing. I told him I was knitting and he said back Oh, socks? Yes, I replied, socks for Mason. To say he was excited is an understatement and he had to try them on immediately (easy enough since I knit most socks toe up) He watched me finish working on them, and as soon as that first sock was finished, he insisted on wearing it. I didn't even get to work in the ends, but he wore that sock around all night, switching it from one foot to the other. He even had to wear it to bed! You can imagine I had to hurry and finish the second sock. He loves those socks and I was so touched by this, and started right away on another pair for him.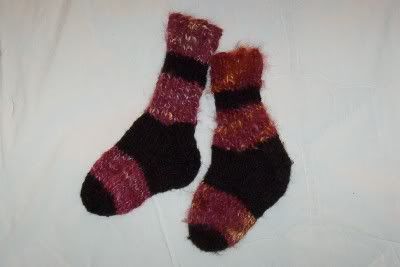 They are a fuzzy, soft little blend of yarns. You may notice that the colors in the red-gold yarn is a little different from one sock to the next. This was injection dyed in the center pull ball, and the inside yarn was lighter than the outside. Fine for inside a little boys boots!
Then I happened to be reading one of my very favorite blogs,
Stitches of Violet
and of course Marguerite is a big believer and supporter of Children in Common projects. Suddenly, a light bulb clicked and I thought of my three-year-old grandson and how his new socks brought him such joy….even with all the other things he has in his life. How much more would a pair of new, warm socks mean to a child who has so little? It made me cry to think of – AND I have this stash of wool and wool blend yarns, good yarns that need to be used but don't have a lot of yardage in any one yarn – PERFECT for CIC projects!!!!
And so, I have joined the
CIC Yahoo list
and just in time for a January sock challenge! My first pair is on the needles, with humble gratitude to being something meaningful with both my craft and my stash. In honor of my grandson and of friends who have adopted children from other countries. Following the traditional of knitting prayer shawls, I am praying for the child who will eventually receive each pair and for the people who care for them.
My other knitting goals this year, goals that will work towards using up any quantities of yarn that I have are to knit a Lopi style sweater (I have it already picked out); a Gansey style sweater IF Liz Lovick leads a KAL for one and finishing at least ONE Pi shawl with the
EzasPi
KAL group. I already have the yarn for each of these projects and don't need to purchase it, but would like to use up what I have.
So those are my yarn and fiber goals for the year. I hope you have enjoyed my story and would love it if you would share yours with me!