Today is Fathers Day and as I do most days, I am thankful and glad for the Dad I have!
Many of you know, this has not been the easiest year for us at Serenity Farms. My dad has been there for me and Bill every step of the way (as has my Mom and the rest of our dear families!) Whether it was sitting with me at the hospital waiting on news of Bill; visiting the hospital when I couldn't; offering advice or even driving the hour and a half (one way!) to help me with work around the farm...Dad has been there for me. I have been blessed to have Alex, who came to live with us in January, be able to spend time with Dad and to work and learn from him - most recently it was building fence for new sheep pastures.
Here are some pictures from the family archives I thought you might enjoy. First up, my first day home: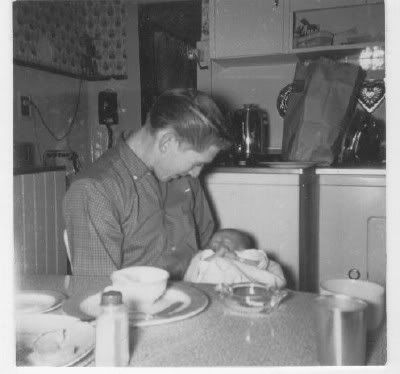 That is Dad, holding me. On the back of the photo, Mom had written "Taken the night we got home, Cary still has the hospital band on her arm...her Daddy was holding her"
And this one, a year or so later: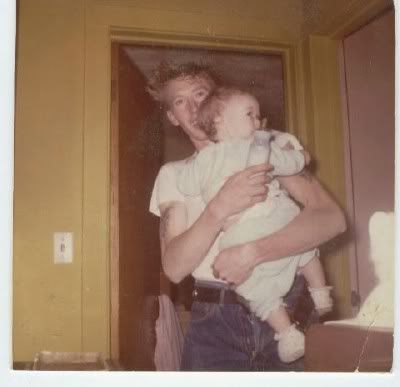 Notice we had moved up to color film in this photo (grin) A very strong memory I have is of my Dad holding me like that and dancing around the room while Patsy Cline sang "Walkin' After Midnight" and Dad singing along. Is it any doubt that Patsy Cline remains one of my favorites?!?
I love my Dad!
And I love my Heavenly Father, too. I am blessed to have a good earthly representative in my own Dad, of a Fathers love and care for a daughter. I am lucky to have a husband who is this kind of father to our children, grandchildren, nephews and extended family - his and mine combined! I have a little journal with poems and sayings throughout its pages. There are no credits given for any of these, so I apologize if I am sharing something I shouldn't here...I would be happy to give credit if I knew who wrote this. It says, in part:
I am a woman who belongs to the Lord...He is my Father and I am His daughter...He loves me with a perfect love....My confidence is in Him, my covering is in Him...He knows and understands my heart. Because He is my Father, I am secure in His arms and have no fear about my future. He cares for me in complete faithfulness and instructs me with unfailing wisdom. He has ordered my steps and He teaches me His ways. He gives me good gifts and encourages me...I am part of His family and accepted in the beloved. I am an heir and I have an inheritance that is eternal and incorruptible. I am so blessed to belong to Him!
With love and thanksgiving to Dads of all kinds...Thank you ;)