My Summer Breeze fiber swap package arrived from fellow
Spindler
member, Linda of
Bearlin Acres Farm
in Pennsylvania. I tried to get a picture of the fiber while still in its package with Linda's neat label on the front, but I kept getting flash so here it is instead in all of its natural glory, seated on my back porch: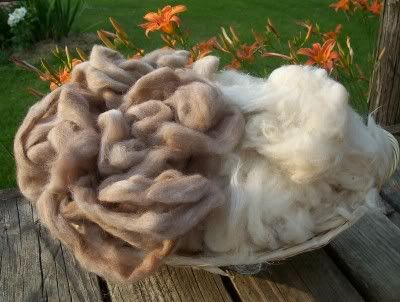 For the Summer Breeze swap we were to send and in turn receive 6-8 ounces of ready-to-spin fiber suitable for lace spinning...well, Linda, I LOVE this fiber...I assume from some of your own animals? The roving on the left in the photo is a lovely swirly Alpaca roving and the fiber on the right is raw Huacaya alpaca from Robbie if I am reading the label correctly...Huacaya is my favorite alpaca and this has delicious crimp and is very, very clean. Need to decide whether it will be blended with something else or spun by itself...my plan for the roving is to spin it and knit the lace scarf that was featured on the cover of the Winter 2004 Spin-Off magazine.
This was fun, and easy! Thank you to Morgan for organizing, to Spindlers for hosting, to Linda for being such a generous and prompt Swap Pal ;) My exchange package is on its way to my Swap Pal in California and I hope she is as delighted with her fiber as I am with mine.