Spinning Time At Serenity Farms ~
It occured to me that recently, my posts have been devoted mostly to knitting projects, and its true that knitting is what I seem able to do the most of these days. Especially the smaller, portable projects
A few nights ago, we were enjoying lovely summer time weather with low humidity and soft sunshine. About 8 pm, chores, supper and supper dishes were behind me and Alex and Bill were watching something on television together - I just decided I needed some time of reflection. Some fiber and prayer time.
Spinning and praying is something I do. When I sit down at a wheel, with good fiber flowing through my fingers, my mind just goes to God. Sometimes it is prayers for some ONE or some THING but more often than not, it is just a time of conversation and worship and reflection. The other times I take advantage of this type of communion with my Lord is when I am doing dishes, or driving.
I won't share our conversation, except to say it was mostly one of love and thankfullness ;D I
will
share some of what is on my wheels and what an evening of spinning can be like for me.
First, on the Electric Spinner, borrowed from friend
Cherie
is a blend from
Jehoval Jireh Farm
, right here in Michigan. This contains Coopworth wool, black alpaca and either cashgora or pygora fibers, I can't remember which, and it is called either Blue Bird or Blue Jay:
Project in mind? Probably socks. This is not the softest of fibers, even with the luxury of alpaca and whichever 'gora' fiber it is. But it is very pretty.
Second, on my favorite wheel - my tiny little Louet S45 - is a blend of Gulf Coast Native, Silk and maybe something else, called Beach from my friend Eve at
Simply Divine Fibers
(yes, the same Eve who produced the lovely Bed and Breakfast yarn for my Summer Sock Party Sock!)
It may be kind of hard to see the beauty of the fiber as it is very understated, but it has just the right variety from the colors of the silk to make it interesting to spin. Project in mind? Trying my hand at a 3-ply for socks. I'm not sure I will have enough yardage, so I am thinking the Beach will be the foot, while a close enough in color Corriedale-Angora blend will give me softness on the ankle and top of the sock.
The third is what is on my handpainted S17 wheel and is what I finally settled on spinning this night. Some of my own fibers, processed at
Zeilingers Wool Company
(also here in Michigan!) This is some of the Lilac Skies roving that included what I called a lilac colored Jacob fleece, some of my medium wool Corriedale, some dyed silks and mohair. It creates a bit of a fuzzy, comforting yarn.
As I was spinning, I was treated to a view of the sky over the pasture fields that are the exact reason I named this roving as I did! I don't know if it shows very well in the photo, but the colors were mirror images:
This is the other view I have while sitting on my back porch (its a deck really) and it is my Spinning Garden: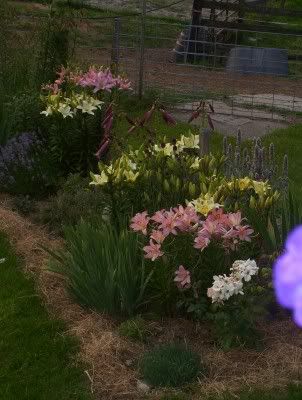 Not a close up view, but taken right from my chair so you have the same vantage point as I do! This garden is full of lilies, alliums, lavender and roses. What I can't share with you is the subtle but heady fragrance of those lilies! I am reminded of the scripture verse about the lilies of the field, Luke 12:27 ""Consider how the lilies grow. They do not labor or spin. Yet I tell you, not even Solomon in all his splendor was dressed like one of these."
Of course, this verse does tell us that the lilies didn't spin...hmmm.
I am joined silently in my evening by two special friends, Christy (short for Christy Columbus, because she is always exploring):
And my sweet, precious Sporty who is really beginning to show her age. She likes to sit by me and clean her face. Dear little friend...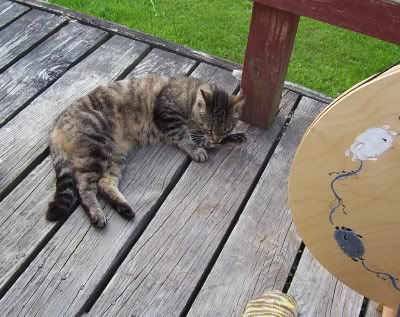 I spun maybe 3 ounces, almost a Louet bobbin full, before it started getting dark and the mosquitos moved in. As I look to my left, which happens to be west, I can't see the full sunset but I am hit by a laser point of light, tempered by the old barn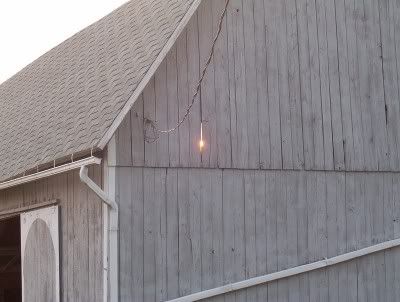 I wish that I could have shared the peace of that evening with all who need some Serenity in their life. I feel like God gives me those moments of renewal and refreshment when I take the time for them...when I tell that nagging voice inside my head to just be still when it says "you need to do this, you need to do that, you need, need, need!"... UGH!
No, I
NEED
this more and will never get it unless I take it. And then I am rewarded.
And He walks with me
And He talks with me
And He tells me I am His own
And the joy we share, as we tarry there
None other, has ever known
From
In The Garden
by C. Austin Miles (A treasured hymn.)