Suddenly it is September at Serenity Farms. We can feel it in the air and see it in the morning sky.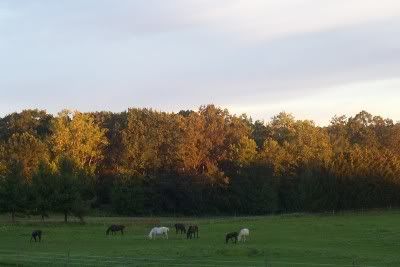 The hot and heavy morning sun of summer gives way to this bright, crisp light of early day and a change in the shadows. I wrap myself in a favorite wool shawl as I make the morning coffee. In spring and summer, we fall asleep to the sound of the peepers (frogs) in the woods and are wakened by the song of robins, feeling somehow like we have overslept even at daybreak because they are so busy! Now our night song is the crickets and the morning song is the harsh scolding of the crows... "Get Up! Get Up!" Not always as welcome, except that it fits with the changing of the time.
Crickets and crows; asters and goldenrod; apples, grapes and pears; cooler nights and shorter days....Welcome Fall! My favorite time of the year.