The Farm Is A Wonderful Kindergarten -
"Most parents would regard kindergarten as the first step in education, and it is. The word means "children's garden" and the most wonderful children's garden in the world is the farm kindergarten - the house, the yard, the barn and the fields".....from Farm Life, published 1919
Mason and I have developed a new routine in recent weeks, and that is to watch the bees. The Sedums are all in full bloom, as are the garden Asters. They are FULL of bees - busy honeybees and gentler bumble bees. Every flower head has at least two bees each, sometimes four or five. Three year old Mason is fascinated by this! "Grandma, lets go see the bees!" and off we go. He pulls up his chair..."Grandma, come and sit with me"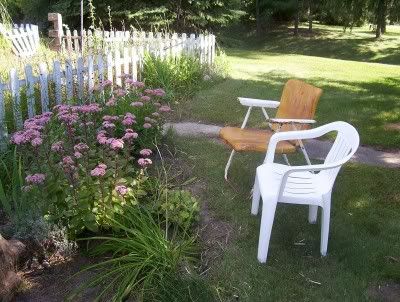 On my busiest day, how can I refuse to stop and watch until my heart bursts with the joy of the late summer sunshine, a garden overflowing with flowers and bees and butterflies and my three year old grandson alternately sitting quietly to listen, hands folded in his lap or kneeling down to ask the bee in a cajoling voice "Bee, what are you doing? Are you making honey?"
Then we have to run and check on Miss Agriope, the beautiful yellow and black spider, an orb weaver who has her web suspended in our flower bed. "Grandma, spiders won't hurt us. They catch 'squitos and flies in their web" This is what I have told him and now he repeats it back to me every time we visit the web.
Then it is back to the sedum and the bees. He leans in close and listens. "Grandma", he says, "What do the bees say?"
They say, I love you, Mason.