Well, no, I didn't need another project on the needles (grin) but I wanted to at least start my Jaywalker sock before the Summer Sock Party '06 officially ends. So I cast on tonight with the wonderfully soothing Opal sock yarn in watery blues and turquoise. See...here is the completed ribbing for the cuff, and all ready to start on the pattern: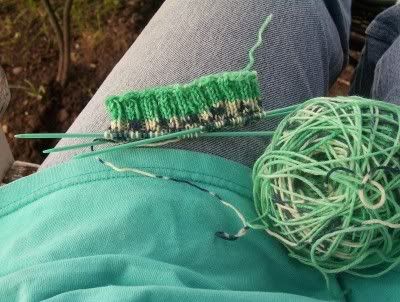 And here is the finished first half of the sock pair, knit by
Stariel
, on my foot:
I don't think I showed that before, and it really, really does fit perfectly ;) This picture is also a truer representation of the color than the one I took today. What a difference the early fall sunlight makes. Anyway, thanks again to our hostess Tonya and my sock knitter from Boston, Stariel! I may have mentioned before that I am probably one of the few sockknitters who had never tried Opal yarn. I'm not a fan of self-striping yarn, but I like this one that is more random in its color than a self-stripe. Now I can see myself looking for more Opal, when this sock (and others on the needles) are finished.
Back on my birthday in January my daughter, who has long been a fan of Socks That Rock yarn (even before the current mania all over the internet!) gifted me with a skein in the Fire on the Mountain colorway (With help from Toni at
The Fold
with the color!) It was such a glorious thing to look at, and I took a long time trying to find a sock pattern that would suit it. After three or four attempts that just didn't work (these are quite bold - no, bright - colors) I decided I would just do a simple 3x1 rib the length of the sock. Here is a picture:
But then, I became intrigued by the way the sock looked on the inside (3 purl x 1 knit):
What do you think? Do you have a preference just by looking at it? I've got a little farther along to knit before I decide for sure, but I would like to finish these socks up and be wearing them soon!
And my final sock post, a wonderfully fall colored Alpaca yarn, hand dyed by my friend Maple from North Star Alpacas (the bay black yarn on the toe is also from one of Maple's Alpacas!)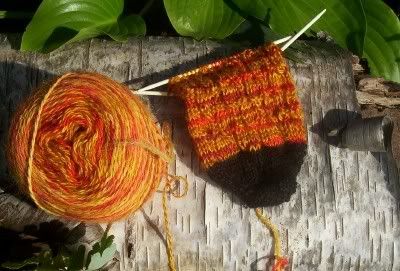 My plan is to work the heel and cuff in the bay-black yarn as well. I know the pattern doesn't show really well in the picture (the yarn is a little fuzzy) but it is kind of a wandering rib stitch that waves in and out. This particular alpaca has almost no give, bounce or memory (and yes, I know that there is
some
alpaca out there that has both...this one just doesn't) but the yarn itself and the colors are soooo lovely, I had to give it a try! So I wanted a rib stitch pattern or small cable that would offer some support to the yarn. I'm not sure that this is the one I want. May go back to the toe and start over with a different stitch pattern.