For once, the weather man was correct in his predictions and following two glorious fall like days over the weekend, Monday morning looms grey, damp and drizzly. The wind has a subtly different sound to it than during the spring rains - not really mournful, though, and in a strange way, soothing. As if the seasons are returning in the proper way, letting me know by the changes that fall is coming and following will be winter.
I love fall and winter. I prefer cool, even cold, weather to hot. My animals prefer it, too. I like the seasons where the ground is covered with white stuff (giving the appearance of clean), no bugs, and perfect for wool.
I am, after, a sheep farmer and wool is my main crop ;)
Except for the sound of wind and rain, and my washing machine running, the house is quiet this morning. Alex is at school, Bill is asleep and Mason won't be here to visit for a few more hours. Watching the rain and feeling the chill in the air, what would any self respecting spinner/knitter/shepherdess want to do? Why, sit down and soothe her spirit with wool and yarn, of course! The rest of this week is already stacked up against me as far as commitments, obligations and errands for other people. It is sooo tempting to give myself some attention today, to sit in my newly organized and comfy sanctuary (wool/knitting/spinning/praying/reading/soap room - see picture below):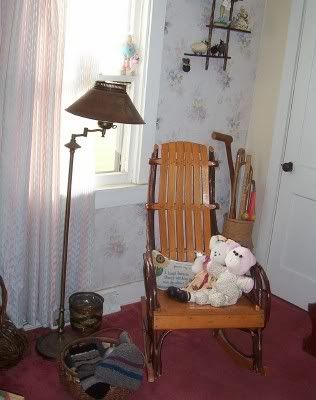 But I am on a mission.... Part of the reason this room IS cleaned and organized is because I am craving some order and cleanliness in my life and the house is reaping the benefit of it. I don't have these urges often, and they don't usually last long...but I am determined. I have a closet to finish clearing out in Alex's new room, then I move on to my "office area" (computer/knitting/spinning/praying/reading room....are you seeing a theme for our house here?)
I want to show you my fiber stash: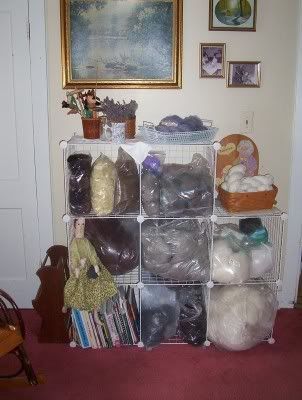 That's it. No rooms or closets crammed full, no tubs hidden under the beds, no garbage bags doing double duty as fiber storage. I know that this is a pitifully small amount of fiber stash compared to what I read many of you have (grin) and this is to my credit as I am a compulsive buyer/hoarder of any thing that interests me, usually. But even this amount of fiber seems like A LOT to me, and each bag represented here has an accompanying project kicking around in my mind that I would like to accomplish in my lifetime. So here it is, out in the open for all to see - especially me - and to keep me motivated. Some of the white in the lower right corner of the photo I would like to dye.
Yarn/knitting projects are not so controlled. One of the things I accomplished in this recent flurry of cleaning was to separate out and bag up purchased yarns plus the pattern and accessories needed to work that particular project. Most of it is sock projects, followed closely by shawl type projects. I have SEVEN separate purchased sock yarns with patterns planned to go with them. That does not include handspun or mill spun sock yarn....there might be to much of that to count! That does not include the FOUR socks that are currently on needles! Shawl projects with either purchased yarn or my own spun yarn...that number is around four or five, with two of them actually on the needles. And then, just to tempt me more, this project shows up on the internet, the
Hidcote Garden Shawl
by the designer of the Icarius Shawl. Oh, how can I NOT be tempted to at least purchase this pattern and dream of one day knitting it??? I ask you...and my lavender beds ask you...how can I not???
Also on needles, two different mitten patterns. Two sweater type projects....one, the Blackberry Shrug from online Knitty magazine, is nearly finished. I just picked it up again the other day when the temperatures began to drop. It was close to completion this spring when the hot, muggy weather encouraged me to put the bulky wool work aside...now is time to finish up: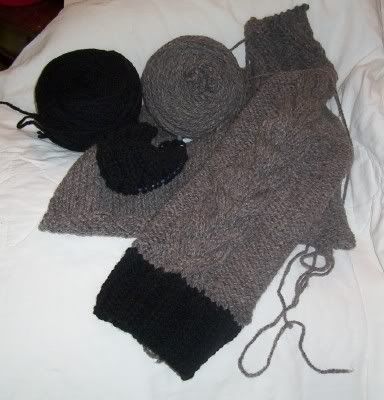 Knit from my own Corriedale yarn and minus the bobbles (and believe me, if it
were
finished I would be wearing it this morning). The other sweater project, also from my own wool - yarn spun by Spinderella's, is the Granny Smith Cardigan and it is only swatched for, not actually started. So I am going to set a goal of finishing the Blackberry this week so I can cast on for the Grannie Smith (only three months late for the
KAL
)
My other goal? To finish AT LEAST one pair of socks per week until all of the socks that are now on needles are complete. Did I also mention that I am currently participating in FIVE online KAL's or Swaps AND our local fiber/knitting group is gearing to start again in a few weeks?
So you can see, that ongoing in-the-works projects ARE the downfall in my life - a real weakness. I get easily bored and easily distracted, so having multiple projects is stimulating to me...but not very satisfactory if I don't complete them....
And finally, in yesterday's post I asked about the pattern I am using for my richly colored Socks That Rock yarn? As I am also working on the Jaywalker sock from yarn sent by Stariel....halfway through the leg portion and LOVING the pattern...now thinking this might work for the STR! After all, Jaywalker was always said to be a good pattern for this type of yarn. Hmmmm....you may see a DIFFERENT sock in the works here in coming days - LOL - but still the completion of an already started project!