A quiet, non-assuming cardboard box arrived in the mail today. Hiding inside was the lovely confection pictured above. I took a moment to just gaze at, the packaging itself was so pretty! Remind me to show you a picture sometime of both my living room sofa and the wallpaper border I have for my wool room ;) You will see that your taste was right on!
I carried my Sock-ret Package to one of my favorite quiet places, my shade garden (and the weather is nice here today, so I could do that!) You might notice that a lot of blog photos are taken in this garden. I lifted the lid: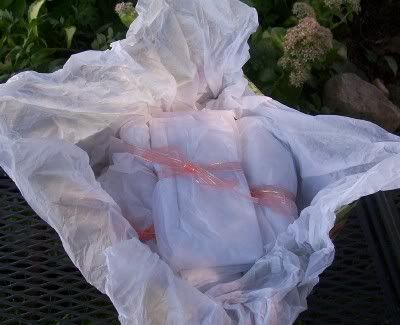 Oh joy of joys! More surprises!!!! I opened each one carefully...five in all: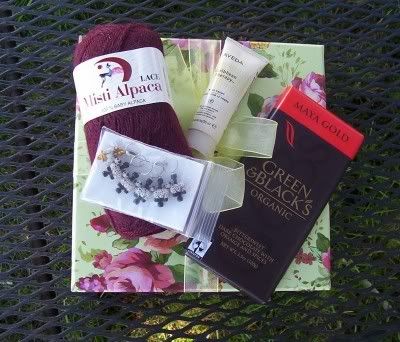 Dark chocolate with orange is one of my absolute favorite treats in the entire world!!! How did you know? Had I mentioned that somewhere? Then there are the cutest little beaded sheep stitch markers...little spotted sheep ;) A very silky lotion, Aveda Caribbean Therapy (hey, maybe I can spin some of those silk caps I have if my hands are a little smoother!)...a pattern for lace gloves (not shown in the photo)...and finally (with great fanfare) a skein of Misti Alpaca Lace yarn in a rich, elegant burgundy/maroon color. 437 yards worth!!!
What a very special Sock-ret Pal I have! Thank you, thank you, thank you!!! You made an already good day ever so much better!
Sending you hugs, wherever you are! The box came from New York....are you there, too?