One of the (many) benefits of participating in the
Sock-ret Pal
swap are the special things offered to us by special stash enablers...um, I mean artists who paint a masterpiece or two into yarn. Another wonderful thing is "meeting" new friends who share a love for some of the same things we do ;)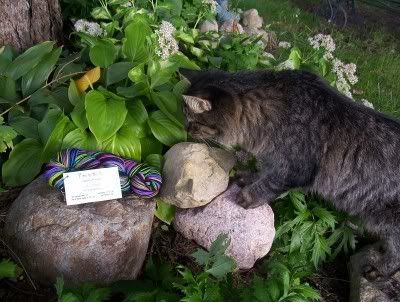 One of those people is Susie from
Perchance To Knit
(Hurry, go check out her yarns!). I got the sweetest email, introducing herself and letting me know she is right here in my own state! And she spins! And she is not that far away!!!
And
...she has some amazing yarns, including a specially created colorway for the Sock-ret Pal knitters. Can you see it in the photo above? It is so amazingly colorful and beautiful that Bamboo (my kitten) can't believe his eyes! He has to have a closer look:
Isn't that just the
prettiest
creation? And a sparkly little stitch marker as well! Woo-hoo!!! I have decided that I am going to give myself a Sock-ret Pal gift by "giving" this yarn to ... ME ;D Thank you Susie for sharing your talent! Thank you Rachel and Dani for this Swap!
The other neat part of the Swap is that I have a really fun person I am gifting to. I have really been enjoying her blog and so far I haven't slipped up and given away my identity. I have a pair of socks nearly finished for her and some little gifts to go along with that I hope to get in the mail by first of the week.
And to my Sock-ret Pal, gifting to me...did you see my note about my sock/foot size? I will share it here, too ;)
My foot (in U.S. measurements) is 9 1/2 inches length from heel to toe; 9 1/2 around the instep; 11 inches around the widest part of my calf; and I usually knit to a height of around half way between my ankle bone and knee (around 7 inches high) but I really don't mind if they are a little shorter. My feet are medium all the way! A womans medium anything fits me pretty good and I am not fussy about my socks, if they are a little big I will still wear them. To small, well, then my daughter would have to have them ;D
By the way, you are
very
good at being a secret! Grin...