Look at this wonderful collection of goodies!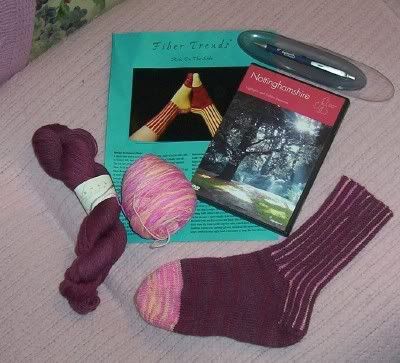 All from my Feet To Prayers Partner,
Pamela
...who has blessed me beyond measure! I wish my camera was a bit more powerful and could capture in close-up detail her fine and even stitches in this unique sock. Pamela was so troubled about ladders, but I HONESTLY see NONE!!!
I love the sock pattern because it combines some techniques I have never used in a sock before. The sideways knit ribbing is wonderfully elastic and stays right up! I don't know if it shows in the photo or not, but the burgundy "solid" color of the Lorna's Laces yarn is not quite solid, it has the most subtle shading that makes it look rich and elegant.
I have been dreaming of a trip to England (a leftover childhood fantasy, I'm sure) Included with all of the gifties, Pamela sent me a DVD with highlights of her part of the world, which happens to be Nottinghamshire, England. LOL...the DVD starts out with a well muscled, handsome man in tights running through the woods with a bow and arrow and I wondered just what kind of movie Pamela had sent to me...hehe...but I am sure he was meant to be Robin Hood! Now I know that I could very happily visit not just Pamela (because we would have so much fun!) but that I would also enjoy the scenery and many neat places to visit (hey, maybe that cute guy in the tights could be found?)
There is also a nice, well crafted writing instrument (ink pen). This is so appropriate because as I child I was always confiscating my dad's nice pens every time he got one....I just loved a good pen and a blank sheet of paper.
OH, Pamela, you just can't know how much you have blessed me these past few weeks! The sock is just the icing on the cake ;) Thank you, thank you, thank you ;D