(Or, I live in Michigan where the weather can change completely in just an instant!)
Last week I was showing you photos of the lovely maple trees as they began to show their fall colors. Here is my garden on Thursday morning:
We have learned to kind of ignore the weatherman's dire predictions of doom and gloom on any given forcast day. Especially when all of the local channels make weather their lead story (what? slow news day fellas?) But this time the prediction of rapidly falling temperatures and yes, some of the white stuff (snow) was true. In the span of about ten minutes of time, maybe fifteen, things went from this: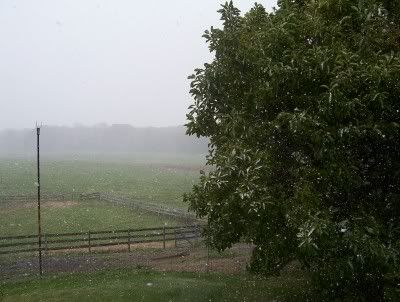 To this:
And then, the sun came out briefly: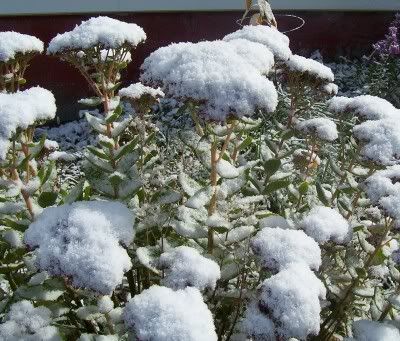 These same weathermen say that our temperatures are thirty degrees below average for this time of year. Winds are howling around thirty miles an hour. But I am warm (well, except for when I am outside doing chores...there was ICE on the water tanks today!) and I have hot coffee and wool socks and wool yarn to work with. I am blessed and happy. I am a girl who loves her wintery weather.
So I dedicate this post, happily and teasingly, to my warm weather friends (and especially to
Deborah
...with hugs)