Socks have been consuming my life recently...but what a nice thing to be consumed by!
First some updates...for my Harvest Sock Swap '06 Pal: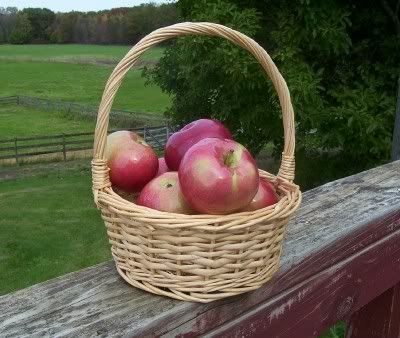 LOL...no, I am not expecting Laura (my pal) to wear apples on her feet - but these lovely Michigan MacIntosh apples very nearly mimic the colors of the yarn in her socks. I am all ready to send the package out to her...and can't find the pattern! It was a purchased pattern for her, and now I can't find it here in my cluttered knitterly house, so had to order another. Then your goodies will be on there way to you.
Also have my first package ready for my Sock-ret Pal. But I am not going to say much here, because I believe she has read my blog and I'm not ready to give away my identity just yet!
A Feet To Prayers Update: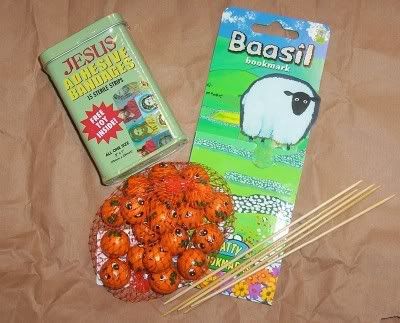 From my not-so secret Feet To Prayers Gifter...three neat little packages came in the mail to me all the way from England! I love Basil the sheep (the little sheepy bookmark) and then the Jesus band-aids!!! Wouldn't those just be the neatest things for a Sunday school or vacation Bible School class? And just as special and oh-so-cute - Jack 'o Lantern chocolates!!! Thank you Pamela!!! Now, I can forgive you for the scratchy grey wool!!!! LOL
At the bottom right of this photo, do you notice something else? That's right, empty needles, signifying my lack of progress in the sock knitting department for my Feet To Prayers Giftee ;( Not for lack of trying though. I have the yarn and thought I had chosen a pattern that would both challenge you and be soothing (my Pal is an accomplished knitter) Didn't work with the chosen yarn. Okay, went to the second pattern choice. Uh-uh....looked even worse. Hmmm - do I change yarn choices or try another pattern? I was trying to combine some knitting goals for the fall...knitting toe up (for My First Toe Ups), trying a new pattern (Mystery Sock KAL), learning a new technique (a different cast on technique for the toe ups) and finishing something on the needles (Socktoberfest) So far, none of these things has been accomplished. EXCEPT I am still praying for my Feet To Prayers Sis...and that is the biggest accomplishment of all!
More sock news...I am teaching a Toes First Sock Class at a local yarn shop, Sip 'n Knit. And I have a GREAT group!!! I mean they are fast learners, funny, fearless and fun! It has been a joy teaching them, and I will hate to see the class end. I will try to get some pictures next (final) class.
So, there is my sock knitting news and un-news. I have some big fiber news in the works, too...maybe I will post about
that
later this week - you will just have to wait and see. Grin....