I have had a longing for color since my recent dyeing workshop with Nancy from Woven Art in Lansing. Working with my own yarns, here is what I came up with this past week. I call this yarn "Bittersweet and Goldenrod" (not for sale):
And this delicious Corriedale lamb and English Angora bunny blend yarn, grey, overdyed in our Serenity Farms colors (teals, blues, turquoise). I thought laying the yarn out on the frosty Lambs Ears in my garden, with the sun just peeking up, was pretty. This yarn has already sold. I will try to make more soon: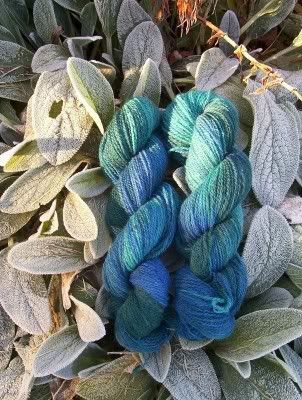 Not just yarn but roving, freshly returned from
Spinderella's
, my friends in Utah who do such an amazing job in processing, especially these smaller finer blends for me. Corriedale, Alpaca, Mohair and Silk combine to create
SILVER SAGE MOON
(below) This is so incredibly ethereal, a photo does not do it justice. I can't stop looking at this one, it just shimmers!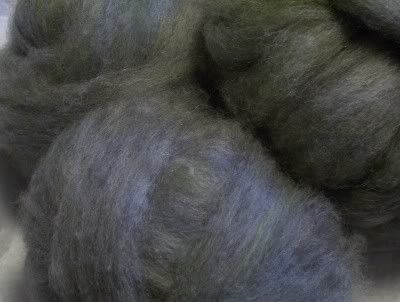 HONEY SPUN GINGER
(below) is a blend of Shetland lamb and dyed silks. This was a very, very pale fawn fleece - almost cream colored. The silk is sunny yellow, seashell pink and palest peach. You can't see the highlights of color from the silk very well in this photo, but it is there - it shines and glows as it flows through your fingers to the spinning wheel:
Not shown here is the intensely deep and mysterious black...black Corriedale, black Alpaca and dyed silk, haven't even decided on a name for that one yet! Hmmmm....how about
MIDNIGHT TAPESTRY
? The colors of the silk is very rich, velvety tones that add so much depth to the roving. And it just doesn't photograph at all well, but I will keep trying. It is raining and gloomy here today, I might be able to get a decent picture.
You can see more of these fibers at our web site
Serenity Farms
, where they are offered for sale in very limited quantities.