I am far behind in updating about some of the Sock or Sock Yarn Swaps I am in. A naggling cold keeps threatening to sideline me, hard as I try to resist it ;(
So here, though a few days late, are some delicious goodies I have received in the mail this past week!
First, that sneaky (and very dear) Pamela strikes again! These little treats arrived on seperate days, giving me more than one smile:
Heirloom pepper seeds, teasel seeds (from your garden Pamela?) and one of those adorable little Lantern Moon sheepy tape measures everyone is blogging about! It is much cuter in person than in photos, and actually reminds me of one of the little black lambs in my own flock - Charm! See for yourself, below is a picture of Charm the real sheep:
I love squeezing the tummy on the little sheep (tape measure, not Charm!) and the tape reels in! hohoho!
Next, all the way from Oregon, my Hot Sox Swap goodies from Carrie!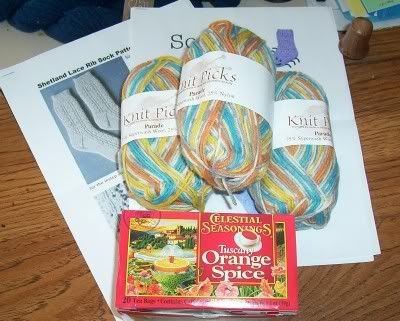 Knit Picks Sock "Parade"; two internet patterns with a lace theme (I had mentioned I love lace as much as socks!); some Tuscany Orange Spice tea AND (not pictured) the most amazingly yummy jam - blackberry I think? Ohhhhh, so good on toasted English Muffins! And that tea? How did I NOT know about this tea before? Here I was, scratchy sore throat and irritating cough to accompany my cold - along in the mail comes all of these things and this tea is perfect! Spicey, even a bit "peppery" to keep me going these past few head cold laden days...truly an inspired choice, Carrie, thank you thank you so much! My box of sock goodies is on its way to Oregon to Carrie, hopefully with no cold germs inside...
I received a soothingly beautiful ecard from my Sockret Pal to let me know that she is thinking of me...it was so pretty! AND I sent another package to my own Sockret Pal that seems to have been right on target, judging from her website - woohoo! (I can't believe I am still managing to remain a secret, I am so terrible at that)
In my own Feet To Prayers update, I sent a little something off to Eve AND am nearing the toe of her sock. My last shopping outing I scored big in the little gift department to go along with her socks - YIPEE ;) Our deadline for that swap will be here before we know it.
A new swap I am in is the Handspun Sock Yarn Swap. I have written twice to the person I am sending to, but haven't a reply yet. But I have been contacted by the person spinning FOR me and we have hit it right off...visiting back and forth! Turns out she was raised here in Michigan!
I THINK those are all of my updates for now - I know it is about all my little cold medicated head is good for. I'm glad we can't share germs just by reading the internet!