Merry, Merry Christmas Everyone!
A few Christmas time photos for you to enjoy ~
Our newest delight, baby grandson Elliot, born December 15th (ahead of his Christmas Eve due date) with (now) big brother Mason: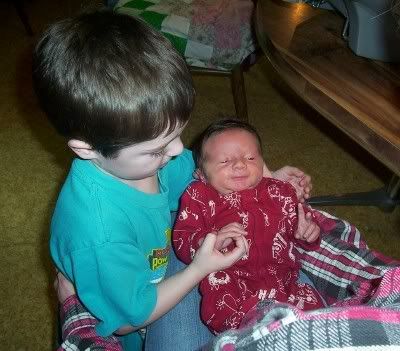 Please notice Elliot's festive Christmas attire, compliments of his Aunt Mo...a tradition she started with my daughter and has continued with the boys.
And a sleeping kitten ~
(We do not allow the kittens to eat or play with tinsel...I was decorating and turned to find O'Malley sound asleep like this!)
O'Malley the kitten is one half of the dynamic duo of kittens now residing in our house ~ his yet unnamed brother is stalking around the perimeter SOMEWHERE!
What else is there to say about the joy of Christmas? From our home to yours....may God be born and made real to hearts today as He was born onto this earth so many years ago.