Or ~ Would you like some snow with that coffee, ma'm?
Finally, winter has decided to make an appearance in Michigan. And I LOVE it! At least, as long as I don't have to get in a vehicle and actually drive anywhere, I love it. The photo of the coffee mug (above) is a little out of focus I know, but I kind of like the funky way it looks with the horses and snow in the background! I was out on the porch taking pictures of my favorite coffee mug(s) for a swap I am in that involves coffee (and prayers), called
A Life Overflowing
, and I thought this picture would fit in well here at my farm blog.
What do Grandma's and boys do on snowy winter days when school is cancelled? Why, they go sledding of course! Here are Alex (our foster son) and Mason (our grandson) whoosing down the hill in the east pasture:
And here is Mason climbing back up the hill. I don't think he ever stopped grinning the whole time we were outside and he kept saying "Sledding is FUN!"
Sporty Cat joined us for the entire time, calmly taking several rides down the big hill with the boys and climbing on their prone, snow covered selves every time one took a spill. Who needs a rescue dog, we have Rescue Cat!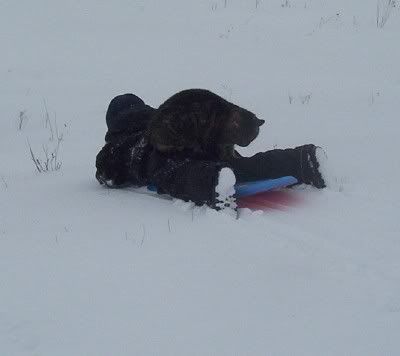 The sheep took note of what we were doing, but declined to join in the fun (probably just as well, since Autry - the ram - may have taken issue with us spending time in HIS pasture. That's Autry, the large white sheep closest to the camera in the photo below. Bridgett is the girl with the snow covered face) Just to be sure, we shut them in the barn while we played in the pasture.
Sledding was followed by hot cocoa with 'shmallows....Mason's name for marshmallows.
And finally, what do you do on a cold and snowy day if you are a pampered house kitten? Why, you curl up on the couch with a nice afghan, close to your brother:
(By the way, we have tried to convince Sporty Cat to make the move from pampered BARN cat to pampered HOUSE cat. She will have NONE of it! But I wish she would change her mind, especially on these really cold days)
Life is sweet, and as I sit here blogging I am knitting on a warm and snuggly shawl project that is large enough now to keep me warm while I work! Hope everyone is safe and sound this fine January day...thinking especially of friends in Missouri who have livestock to care for....