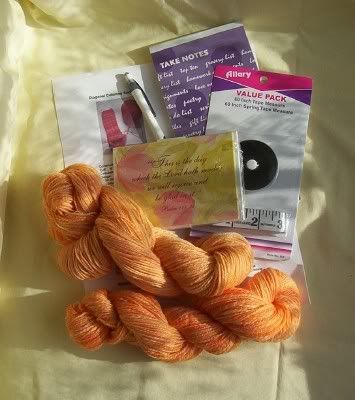 Last year, I signed on to Rae's Handspun Sock Yarn Swap. The challange was to spend some time spinning a sock yarn for a secret pal. Spinning for me was Mary in Missouri (Mary does not have a blog, but many of you know her from the Townsend Sock Lists and also the SockKnittersSAM Yahoo lists) We were to mail our packages the week of January 8th and yesterday, my goodie package arrived! I was in love as soon as I saw the color of this yarn!!! The picture above shows the yarn as well as the goodies....tape measure (always need those!); note pad and pen; the pattern Mary wrote for SockKnittersSAM "Diagonal Columns Socks" (how did you know this was on my "to make" list, Mary?) and a lovely set of cards that quote Psalms 118:24 "This is the day which the Lord hath made; we will rejoice and be glad in it"
Well, I certainly
am
rejoicing over this yarn and getting to know Mary! We have had a wonderful time corresponding with one another all of this time that the Spin-A-Long was going on (even though I didn't know who she was) We just had fun getting to know one another and hearing about what was happening in each others lives and talking about spinning. It was one of those things where you know instantly that you like each other and would enjoy sitting around the table knitting or in front of the fire spinning.
And since its all about the yarn, here is a little closer picture:
Now I am off to write to Mary and find out more details about this yarn....I think she told me what breed the fiber was, but I can't remember. It is soft and bouncy - just the kind I love!
Thank you Mary, and thank you Rae for coming up with this idea! I have details of my own sock yarn, spun for my secret pal, but I won't write about it of course, until she receives her package!