Here it is, my swatch for the Mystery Stole 3 that
Melanie
is preparing us for!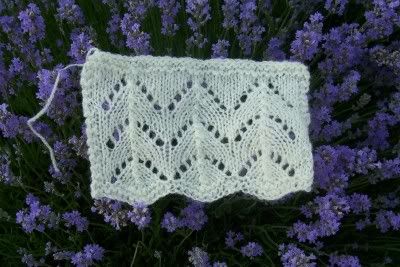 I knit this over the weekend while at the lake (see previous post). It is from my fine white Corriedale roving, all from farm raised sheep. Spun and plyed on my Louet S45, knit on my new Addi Turbo Lace needles. I love the look and feel, and am just about finished with my first full bobbin ~ hopefully will have yardage complete before the first clue day (this Friday, June 29) Once I have seen the clue, I may decide to go up one needle size for a more open look. Or I could block harder (grin)
This is also part of my Journey To A Shawl project.