Right now, the pale lemony-yellow color of this sunflower in the garden is so refreshing!
The other color going on at Serenity Farms is green...or lack of it. We have been very dry in mid-Michigan this summer, while at my parents farm just 75 miles south things are a bit brighter. Here are two photos for "lawn comparison":
These are the grandsons playing with water buckets in my yard...yes, that brown stuff they are standing on is
lawn
, not dirt! (By the way, my pastures are just as brown as the lawn, except for the occasional spot of green where the bull thistle succeeds in thriving!) Compare that to Elliot posing at Great-Grandma's just a few days earlier:
It looks like he is standing on a green carpet!
Still, we got some nice second cutting hay in the barn (with no danger of being rained on, thank you very much - LOL!) Yield was down, but I am grateful for all I have and also grateful that I insisted on putting more first cutting in the barn than anyone thought I needed! And this weekend, a little bit of showers that actually amounted to measurable rain.
Just to let you know how "high-tech" things are here at Grandma and Papa's house...the boys played for at least an hour with those water buckets. We "polished stones" (don't tell that we were just getting them wet to reveal their beauty!) We watered flowers. We "made" puddles on the path. We "planted" pine cones (after first getting them thoroughly soaked in the water) When we got tired we sat on the blanket and drank lemonade (for boys) and coffee (for grandma and mom) All of this with no elaborate pool set up. When I was a little girl, our pool was either the creek, the river or the stock tank full of clean and numbingly cold water! Squishing tomato worms is another fun entertainment in summer that requires no special electronics or equipment.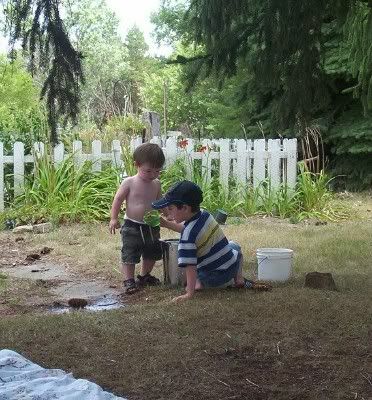 These are the joys of summer...oh, and notice little Elliot's high fashion (grin) It is his favorite way of dressing at twenty months. It is either pants with no shirt or shirt with no pants. And he would prefer barefoot, but mama put the shoes on him today.
I'll close with another yellow from the garden right now, the daylilies. This is a new one for my garden and is called "Kindly Light" (I even love the name!) The daylily catalog says it was hybridized in 1949 ~ how come I have never seen this beauty before?!? It is tall and elegant and glows in the garden at just the right time of year. It is also slightly fragrant and a real delight.