We welcomed the first day of summer with some incredible rains here in mid-Michigan. See the difference just a few minutes can make in the weather...here is the view from my back porch, about an hour after I woke up (I would like to mention that I don't wake up late, with the sun already high in the sky...it is actually about 6 am Wednesday morning. The sky just had that peculiar bright color it takes on before a storm):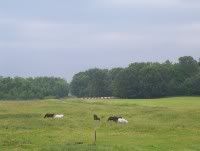 And here is the same view, only moments later. Can you see the horses through the driving rain?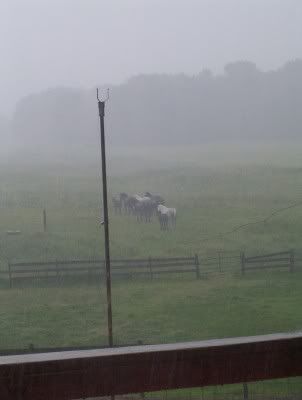 So, what's a girl to do on such a day, stuck indoors? Paperwork? No. Housework? Definately NOT (grin) Alex was bored and couldn't stop himself from pestering, so I agreed to sit and watch a movie with him, which turned out to be a lot of fun! We watched
National Treasure
with Nicholas Cage and I, being the productive knitter that I am (LOL!) worked on several things.
First, socks for the CIC Summer Sock Challange:
Hmmm, I realize looking at this photo that at this stage the sock toes look like a bathing suit top for a Barbie who loves John Deere tractors! (refering to the green and yellow colors of the yarn...) I really think a toddler will enjoy these bright colors, but maybe I should have waited till there was more of the socks to show than this.
Then, it was on to knitting swatches for the Mystery_Stole_2 KAL. I know the yarn I want to use (a blend of one of our favorite Corriedale ewes and Angora bunny, a warm coffee cream color yarn), and here are my samples on size 6, size 7 and size 8 needles:
So far, the sample in size 7 is my favorite.
Melanie
(designer of the pattern and host of the KAL) tells us that the swatch pattern is a good representative of what the holey-ness versus solid-ness will be in the actual pattern, so I am going to go for what feels best to me. Hmmm, maybe I will knit one more swatch on size 9 needles... This yarn was spun for me by my friends at
Spinderella's
and while it is a laceweight yarn, spinners will realize that the bounce and livliness of the wool remains (somewhat) in the yarn and that Corriedale is a very lively fiber that wants to puff itself up (cheeky yarn!)so this really works up more like a fingerling weight. I love the feel of it!
Yet another swatch below, this time for the
Grannie Smith Cardigan KAL
(Now I tell you, I HAVE to join in on this lace knit-a-long, since I AM Granny Smith around these parts - just ask the grandchildren!) I think everyone else on the list is knitting their sweaters in Rowan Kidsilk Haze, except me.
Swatch on the left is a commercial laceweight Alpaca, knit on size 4 US needles. Beautiful color, very nice to work with, but too drapey and holes to large to make a comfortable cardigan, IMHO. On the right is the grey Corriedale/CVM/Angora blend (again, from our own sheep and processed into yarn by Spinderella's) It is my choice and I can already picture the classic pearly grey yarn highlighted by some subtle and elegant pearl-like buttons! It has substance, softness, luster and best of all it feels GREAT! I will post another photo at the KAL blog site.
And I got gauge - exactly! So, the Corriedale blend (my first love) is the final choice. Please overlook the mistake in my knitting - I'm sure you can see where I mis-read the pattern and my little diamonds are out of sync...I made the executive decision since I was so near the end of the sample row and it was only a swatch to check gauge AND dinner was ready to go on the table...to just go with it ;/ The pattern itself has no mistakes, it was totally a knitters error!
Finally (if you are still reading at this point), I continue faithfully knitting and praying for Dale while I work on The
Elegantly Simple Triangle Lace
shawl in handspun alpaca. Dale is embarking on the next big step of her journey and continued prayers for her and her family are so important. This photo was taken a few days earlier, when the sun was shining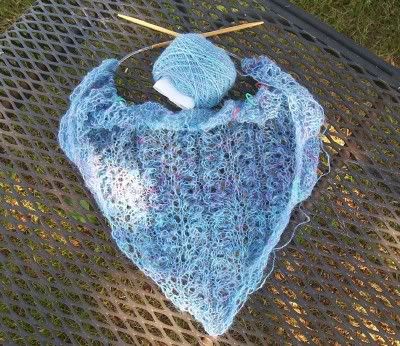 Whew, that was a long-winded update, wasn't it? Amazing what a rainy day can allow you the freedom to produce! I enjoyed the day just relaxing with Alex and Bill, knitting and blogging. I would love to hear your feedback on any of the samples above and as always, to hear what others are knitting.