We finally feel like we are starting to catch up after the week without electricity...okay, it was only four days but it has taken me that long to feel like I am back on track. In truth, as long as I have some way to power the pump and water the livestock and get a trickle of warm water to wash with, I really enjoy the peace and solitude of those times. We go to bed when it gets dark, we wake up when it gets light, we play games or read as a family or share some knitting time. We cook outside on the charcoal grill and I drink percolated coffee (I
LOVE
percolated coffee!!
This year, for the first time in as long as I can remember - I don't have a vegetable garden. I have started my own seeds, planted in raised beds, grown my own special varieties since I was first on my own. For the past three years I have been a vendor at the local Farmers Market with my farm produced soaps, lotions, wool and yarn (see the link to our website in the side bar if you want to know more about our products) Our neighbors, the Shaver family, have an organic farm and raise the most incredible vegetables that they then sell for just pennies! Well, it seems like pennies to me since I am not the one doing the weeding and hand picking and hoeing. They also have eggs from their free range chickens (Did I mention that this is also my first year without chickens here on my farm?) So this year my produce and eggs come from the Farmers Market and not my own backyard.
These lovely peppers, 3 for $1: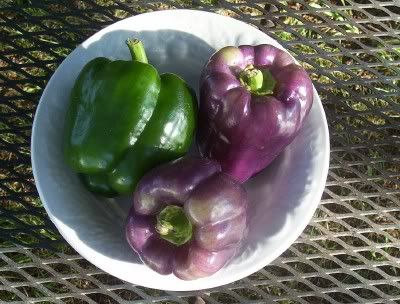 They didn't last long...they were piled high on a plate of nachos for my supper, along with the first ripe tomatoes of the Michigan summer; tender green onions and fresh baby lettuce and cilantro (the lettuce and cilantro are from another Market vendor, Edna)
And blueberries...oh my, the blueberries! I haven't had blueberries with so much flavor in ages, produced at a local farm just reopened after some years of neglect. There is a blend of three varieties here, each distinct but delicious together.
There were peaches, too, but they didn't make it to the photo shoot - LOL! I have several pounds of the blueberries coming home with me this week...if you have a favorite blueberry recipe, I would love to hear it if you care to share. There is a link to email me in the side bar.
And finally, I couldn't resist this brilliant blue sky and fluffy clouds floating over the peak of our barn roof. A summer blueberry sky: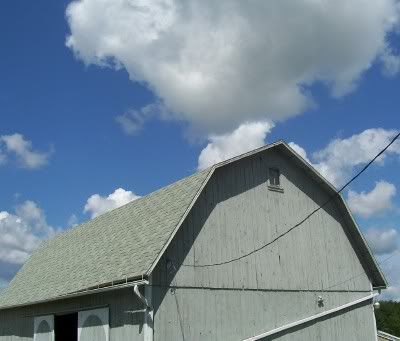 P.S. Happy Birthday, Momma! I love you more than that entire sky XXOO (The picture below is of a painted canvas tote that I use as my knitting bag, sitting on a handstitched quilt that is covered with my favorite flowers - pansies. The tote was painted by my mom and the quilt was stitched by her. I don't know if you can see in the photo or not, but the little bears have a bucket full of blueberries and the bucket says Cary Ann - thats me!)