Since I hadn't posted any knitting content recently, I thought I would share a few of the 2006 knitting projects that have spilled over into 2007 ~ otherwise known as Works In Progress!
The first two are secret projects...things being knitted for someone else who might take a peek at this blog, so I will keep the details sketchy!
First up is the Branching Out scarf, Knitty Spring 05 by
Susan
. Oh, do I ever LOVE this pattern (click on Susan's name to go to her blog and then link to this FREE pattern)! AND the yarn I am knitting it with (even though it contains some acrylic - 40%; the other 60% is Mohair)....Filatura Di Crossa in color 5001. I am using Denise size 7 needles.
It will be even more beautiful when it is blocked, and I will surely knit this again in some of my own handspun and hand dyed yarn, but for the moment I am enjoying the beauty of the pattern and the elegant change of colors in this purchased yarn.
Next is a pattern from Sylvia Harding, being worked from laceweight, natural color yarn from our sheep Violet:
That is all I will say about this project for now, until the recipient receives her gift (grin) I will put in a little plug for myself here....the yarn for both this shawl and the socks below, grown by Violet and Ainsley (two of our sheep), is available from me by visiting this link
Serenity Farms
) Visit our website when you have the chance!
Next is one of several pairs of socks on the needles, my favorite Crusoe pattern (free at
Knitty
) knit with Ainsley (natural colored Corriedale) yarn...this feels soooo good on the feet, its like wearing socks and getting a foot massage all at the same time! I'm using US size 2 needles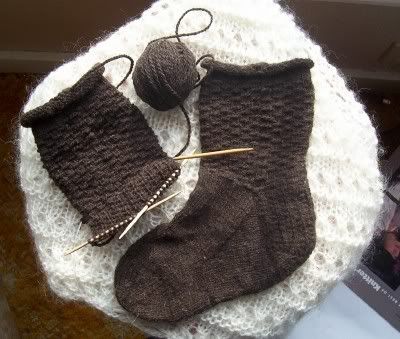 This pair is for my daughter, she already knows they are coming to her and she can't wait. You might see from the photo that I have nearly finished the heel flap on the second sock, then it will be on to the foot and finish! This was our November Sock Knit Along for the sock knitting group, Sip-n-Socks, I am involved with at our local yarn/coffee shop, Sip 'n Knit, in Ithaca Michigan. I got sidetracked by December knitting...
The sock below is our December/January sock for the Sip-n-Sock Club and is called Bells and Whistles by Mona Schmidt, published in the Holiday issue of Interweave Knits..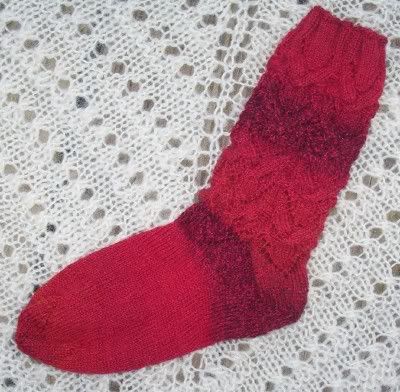 I love everything about this pattern and the yarn I am knitting mine from! It is Meilenweit Mega Boots Stretch sock yarn, the colorway is 716 ~ an enchanting scarlet that fades in and out with charcoal and even a dusting of golden yellow that you don't really see until you look close. I went down to a needle size US 1 to knit my pair.
And that's enough for now ;) Please know that these four projects are only a
small
representation of my current knitting projects....is that horribly pathetic??? I don't think I will even try to list the others and of course, this does not account for the SPINNING projects in the works!!!
But I know that 99% of the knitters and spinners who read my blog will understand ;)