LOL...I have joined a swap to jolt me out of the winter doldrums -
No More Hum-Drum Mittens Swap 2
!
I have been knitting almost as many mittens this winter as I have socks, so when I followed a link from
Anne's
blog about this swap, I decided to take the plunge. It will be something different for me and I know I will enjoy it. There are still a few days to sign up for this, so if you would like to do away with the boring, follow the link above and join in ;)
One of the things we have to do is answer a questionnaire, so I have answered mine below. But before I do, I thought I would share a picture of some mittens I was working on before Christmas (and just picked up again) I had made the simple cable pattern then decided these mittens needed a lining. That is handspun Corriedale lamb/Angora bunny. I usually would knit the lining first and then the outer mitten, but the lining was an after the fact decision. So I picked up stitches at the cuff and started knitting away! We'll see how well my fit is doing things this way!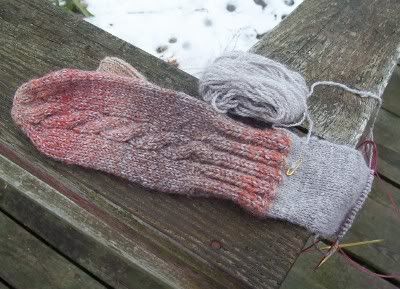 Okay, now on the question and answer portion of this post!
How long have you been knitting & how did you learn?
Since I was 12, about 36 years now ;) I learned when my Granny decided she would like to learn (she also learned to play guitar that year!) and she took me along. We took lessons that were offered at the local school – I was the youngest and she was the oldest in the class! So I always joke that I learned to knit with my grandma, and it is a very special memory for me!
Would you consider your skill level to be beginner, intermediate or advanced?
Intermediate
What are your favorite colors? Any you dislike?
I don't think I have a favorite, I like them all at various times and places!
Do you like Latvian type patterns? If so, what are your favorite patterns?
I do like admiring Latvian patterns, but I don't have a favorite one and have never knit one.
Do you desire mittens for yourself, your "special someone else" or your child?
For me please ;)
What is the measurement from your wrist to the tip of your longest finger?
8 inches, but I prefer a bit longer mitten, so would say a length of at least 9 inches
What is the circumference of your hand at it's widest point?
Around my
palm
is 8 inches, around the
widest
part just below my thumb) is actually 9 inches
What other things do you enjoy knitting?
Socks and lace
What sort of needles do you enjoy working with? (straights vs circs, bamboo vs aluminum)
Circulars – I rarely use straights. I like bamboo, love my Addi turbos, too. But my very favorite needles are my Denise interchangeables. I have wanted to try the Knit Picks new bamboo ones.
What's one project you've not yet tried but are dying to make?
A sweater. I mean, I know that I could knit one, I have the skills. But I get bored so easily that I don't usually take on larger projects. I will one day though. I am actually contemplating making the Central Park Hoodie this year. I have the pattern and yarn.
What's one yarn you've not yet tried but are dying to work with?
Nothing comes to me, though I am sure there is something out there…
What other hobbies do you have? Do you spin? Sew? Garden? Cook?
Yes, I spin. Raise my own sheep for the wool ;) I also am an avid gardener.
Besides yarn, do you collect anything?
Fiber! I'm not sure which "stash" is bigger, fiber or yarn!
What kind of goodies do you enjoy? Sweets? Salty? Anything you hate or are allergic to?
Yes….LOL, I mean I just love goodies. Although I am getting a little tired of dark chocolate – I was obsessed by it for awhile so probably ate to much. No allergies.
Do you have any kids? Pets?
I have three grown children and my husband and I recently became legal guardians of our foster son – a fourteen year old boy. So we are not empty nesters! Our pets are all of the outdoors variety…approximately thirty sheep; a half dozen chickens; one goose and two very special barn cats. No indoors pets though.
What is your favorite part of Winter?
I just plain love winter! I love that there are no bugs and I can use wool (my favorite fiber) to its best advantage.
What is your least favorite part of Winter?
Well, I don't like driving on bad roads.