Yesterday my friend Cherie and I visited Handweavers Guild of America's Convergence 2006. Because it was held here in Michigan (Grand Rapids) and we felt it only right that we take in such an important event so close to home.
I took shopping money, but only came home with two things: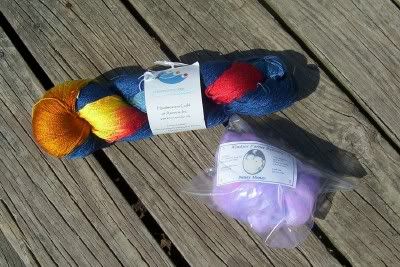 Can you tell what the beautiful yarn is???? Here is another look:
Yes, yes it is Margaret Pittman's
Heritage Yarn
Limited Edition, special event colorway created in celebration of Convergence 2006!!!! I'm sure this photo doesn't give it the credit it deserves....I know that I had seen pictures of it and was still blown away by the glory of it in person. Margaret, you really captured the spirit of Michigan in this yarn I think....it reminds me of blazing sunsets over the Great Lakes, or sailboats on the water or hot air balloons in Battle Creek. You have just captured my state in a yarn and I had to have it. In my mind, it was the most beautiful and unique thing at the shopping hall.
My other package was a delicious sample of German Angora fiber...this is roving. The samples were being given away by the German Angora rabbit association. This one was created by Windsor Farm Rabbitry in Silverton Oregon. No website, I'm afraid, but I will be contacting these folks to see if they have any more of this dream fiber...oh boy!
I'm glad we attended so I could say I had been, but it was such a subdued expereience. Nothing like the noise and bustle and camaraderie of a Fiber Festival, more like visiting a museum. And of course there were pieces created by fiber artists from around the world that were museum quality. True to my nature, though, my favorite piece of all was the exquisite circular lace shawl, hand spun and then knit from some dazzling white, amazing yarn (at least it LOOKED amazing - we weren't allowed to
touch
anything, of course!) by a woman who was actually a sheep rancher in New Zealand (I'm sorry I didn't take down her name) That appealed to me much more than a felted bowl, or knitted wire or some of the other things that stretched the limits ( a goal I guess) To me, that is a piece deserving to be called excellent...truly and actually created from the land, the heart and home. Beauty and function and purpose.
I'm such a homespun kind of girl....