Dear Sock-ret Pal knitting for me, whoever and wherever you might be (grin),
Isn't this great fun? Do you want to keep yourself a secret, or do you want to let me know who you are? I don't mind either way, so you can decide okay? Whatever is easiest and most fun for you. I have tried to answer the questions below. I also have a website for my farm and you can see that by visiting
Serenity Farms
I just answered a whole bunch of questions for my Feet To Prayers group and you can see them in yesterdays post. Between these two days of questions and answers, you should know a lot about me! LOL...
Here goes:
How long have you been knitting? About 35 years
Do you consider yourself a beginning, intermediate or experienced sock knitter? I think I am pretty good at sock knitting
Favorites (fiber related):
What colors do you love? I really like all colors, including brights, dark velvety tones and all naturals - the picture below is of the natural colors of my own flock of sheep that I really love: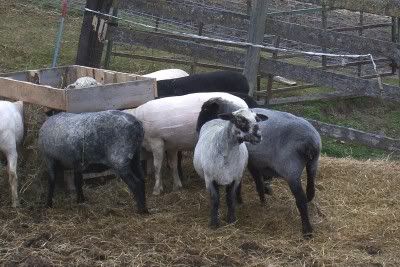 Do you prefer solids or variegated? Hmmm, depends on the mood ;)
What fibers do you most love to knit with? Corriedale wool, Llama and Angora rabbit. Most recently I have been taken up with Shetland. You can see examples of a few of the things I like, below: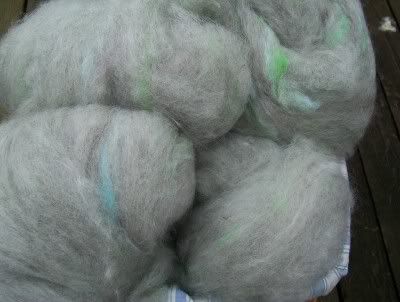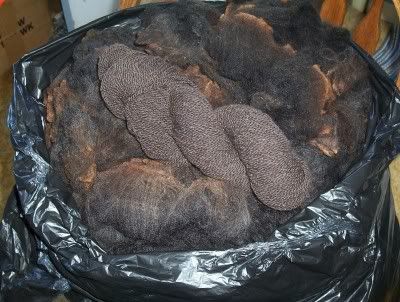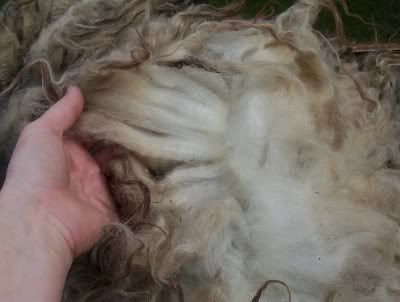 Photos above from top to bottom - roving made from Corriedale ewe Hannah blended with Angora bunny; Fleece and yarn from my Corriedale ewe Ainsley and bottom, raw Shetland fleece from a ewe named Peg)
Who do you consider your favorite yarn vendors? I have several friends in the fiber/yarn world and I like to support them. My friend
Margaret
with her glorious laceweight yarns in unbelievable colors (can't get her to work with wool though!); my friend
Eve
who does an amazing job with blends and with colors are two of my very favorites. For fibers, there are probably to many to name, but Eve also has exquisite fibers and my friends at
Spinderellas
have to die for rovings, their Thrums. For sock yarn, I love STR (Socks That Rock) but have recently found myself in love with the Sheaffer Anne.
What projects (other than socks, of course*S*) do you most enjoy knitting? Mittens (grin) and anything lace. I am addicted to lace knitting and sock knitting, so of course lace patterned socks are a personal favorite!
Dislikes (fiber related):
What fibers can you not stand to knit with? I don't like acrylic (okay I know, not a fiber) And do you know, I am not fond of cotton or of silk...unless the silk is in a blend with wool
To wear? I don't have any trouble wearing natural fibers
What colors would you never wear? I really like all colors
The Tools:
Plastic or Metal? Bamboo or wood? Yes (grin). I don't like the older aluminum needles, but I love bamboo for socks, addi turbos for most anything, and I have a set of the Denise circulars that are plastic that I like. My daughter just got a set of the Knit Picks circulars, with sharper points than Addi's and I think they are going to be nice
Circs or Straights? DPNs or Magic Loop? I have learned the Magic Loop method and see its value, but I still think I prefer dpns
Are there any knitting accessories you don't have in your collection but would like? Hmmm, have to think about that!
The Extras:
Do you have a wish list? If so, please share the link! No
Do you like sweet, sour or salty? (or all of the above? *S*) Yes - grin Sweet or salty first of all though
Do you have any allergies your pal should know about? (Certain foods, smoke, pet hair, etc) I really hate cigarette smoke
Favorite scents? Scents you can't stand? I have a hard time with most scents, can't stand anything flowery but do okay with spicey or citrus
Do you collect anything (other than yarn and knitting toys of course)? Not really, but I enjoy anything with sheep on it
When is your birthday? (month and day is fine!) January 24
Do you spin? Yes - the picture below is of one of my favorite spinning places - my living room Dye your own yarn? Yes
Your favorite author/band/vacation spot, anything you think will help your pal know you better... Hmmm, will think about that, too ;) I know my favorite vacation spot is my back yard with my family and critters (that is Eve the sheep below)