(Note: I wrote this on Thursday, July 27 - Bill's Birthday - but am just now able to post it. We were able to celebrate on the day!)
Today is my Sweetest's Birthday!
The photo above was taken, oh...a few years ago ;p That is a very young Bill behind the wheel of the fancy automobile and his father, Elmer, is beside him. Also in the picture are Bill's cousin Donny and a friend, Clare Green. The picture was taken at The Chicago International. Bill has aged a bit since then, putting years and experiences behind him...adding wisdom and creating a past...has beautiful children and grandchildren... and a life with me as his wife for the past several years.
He asked me once how it was that I came to fall in love with him, and I knew the answer without hesitation... because when I saw him, I felt like I was home. Not because of this place that we live, because my childhood home in Eaton County is the one that physically feels like home (where you can safely drink the well water and happily breath the clean night air, find shade from the hot sun and climb rolling hills...) But it is because of this person that I share a life with, he is the one who feels like home!
I still feel that way today, when I drive in the driveway and he is sitting on the porch waiting, or calls out from the other room when I walk in the door "Oh, good, you're home!" Or when, during his recent extended hospital stay, I over hear him asking the nurse "where is my wife?" Or the night nurse confides in me that he was asking for me, but worried about me driving alone...and my heart melts. He would never let me know those things face to face.
Bill is a big man with a voice that makes you stop and take notice...but in a good way. Like George Beverly Shea or James Earl Jones (you know, Darth Vadar's voice?) He is a very private man, who doesn't like many people around and yet, people are always drawn to him like the proverbial flies to honey. I know I was ;)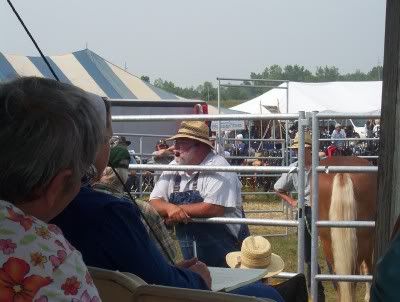 He rarely gives speaking engagements any more, but when he does he draws a crowd. The photo above was taken at the 2006 Horse Progress Days. He spoke of conformation and soundness in horses and so much more. The seats were full and folks were standing around the arena. There were many questions from the audience that kept him there past his alloted time and then spilled over outside ring afterwards: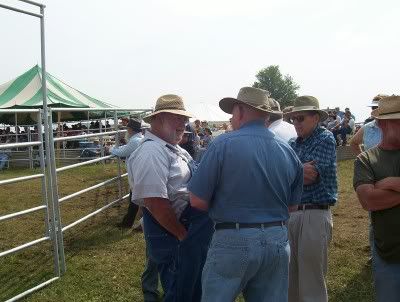 When he was tired enough to finally draw away, he was treated to his favorite ride - behind a good team of grey horses, Percheron geldings belonging to dear friends Hubert and Martha Zuiderveen. That is Hubert leaning on the wagon and his son is driving. Hubert must have been telling something funny by the look on Alex's face
I have lived with this man for over thirteen years...known him even longer. And it is still a thrill to hear him speak, whether in public or private, to share his life every day. His knowledge and goodness are beyond me so many of those days! I never get tired of coming home to him.
Happy Birthday, Sweetheart!