Well now, how crummy is that? I settled down with knitting and lavender tea last night, turned on the television and was treated to....a REPEAT of Grey's Anatomy!!!!
A repeat already?!?
Come on!
Of course, I did watch the repeat....and I did still laugh, cry and get all giddy inside at both episodes. Okay - my secret is out....that I (along with millions of others around the world) am a Grey's Anatomy fan (smiles sheepishly)
So here is my post, both in honor and protest of Grey's this week ~ color and grey, mixed up in my world.
Some of the more colorful aspects of my weekend, yarn dyed by me (wool/mohair on the left, 100% silk on the right):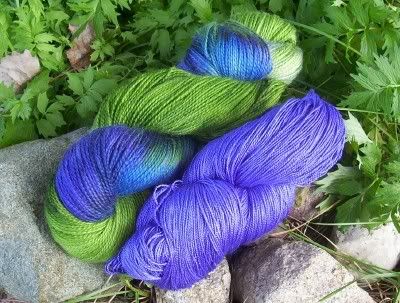 An absolutely perfect Saturday last! My day began at 4 am, because I had to be awake in time to prepare a sack lunch and be on the road by 5:30, heading for East Lansing. Had to be at
THE
horse show (Michigan Great Lakes International) at the MSU Pavilion by 7 to catch the first few classes and visit with friends (and my dad!)
Did that and then headed across town to a splendid, creative Dyeing Workshop with Nancy McRay, owner of
Woven Art
. I joined Nancy (instructor), Kathy and Jill (students like me) and we just had a relaxing yet rejuvinating day putting color to yarn. I followed this with a visit to Nancy's shop to both see the fantastic lace on disply (through the end of this month by the way)and shop - I bought some yummy little cashmere/silk/mohair yarn! I will most definately be back to shop some more...there is just a wonderful feeling when you walk through the door of Woven Art - both energy and serenity. (Forgetful Cary left her camera at home, so no pictures of other dye creations or the front of the shop!) We are blessed by serveral yarn shops in the mid-Michigan area (please don't make the mistake of thinking there is only one!) ~ TREAT yourself to a trip to
Woven Art
!
Next, another cup of
Beaners
coffee and I was back on the road to visit my sister and brother in law, see their newly remodeled kitchen and the greenhouse work-in-progress (both are fantastic by the way!). Then off to an authentic Mexican restaurant (oooh, yummy-yummy) and then Kim (sister) and I decided to hit the thrift stores. We had soooo much fun there! Time just flew by, darkness fell and we had to have another Beaners latte on the way back to Kim's house. Then I left to drive home in the rain, but just felt so good...it was truly an amazingly terrific day! (Though sadly, I ran out of daylight time before I had the chance to make it to another Lansing area yarn shop,
Rae's Yarn Boutique
. Rae is the colorful and creative designer of the current sock pattern for the Six-Socks-KAL group. I think that just means I am going to have to make ANOTHER special trip back to Lansing to visit yarn shops, right?)
Oh, and here are my thrift store purchases (sweaters from Ralph Lauren, JCrew, LL Bean and more....all in shades of Grey! How funny is that?)
My final somewhat colorful photo this post is of the first half of my pair of Jaywalkers in STR Fire On The Mountain yarn, complete with lime green toes (you might recall that I didn't pay attention to the yardage required for these socks and am afraid...no, just about positive, that I don't have enough to complete both socks with just the STR) The lime green Regia came to the rescue, and I LOVE it! Wish I would have done the heels in the same shade, but not enough to rip back and do so - LOL!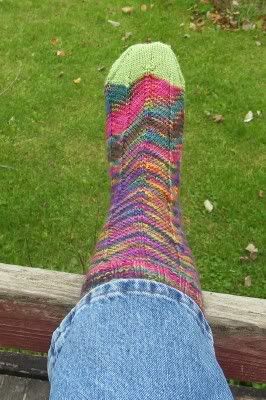 What is coloring your world today?